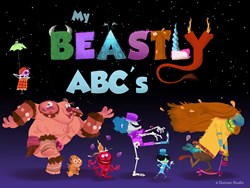 We are so pleased by the fantastic reaction to our app from both children and adults as well as the wonderful reception by reviewers and bloggers
Pasadena, CA (PRWEB) August 01, 2013
Today, Duncan Studio releases its popular storybook app, My Beastly ABCs, for the iPhone. Previously available only on the iPad, My Beastly ABCs has been highly rated by numerous reviewers including a USA Today ranking as one of the Top Ten iPad Apps for Kids.
"We are so pleased by the fantastic reaction to our app from both children and adults as well as the wonderful reception by reviewers and bloggers," shared Ken Duncan, Studio President. "The depth of our experience with bringing animated characters to life combined with our love for great story telling seems to have shown through in My Beastly ABCs."
Through the use of interactive animation and an imaginative plot, My Beastly ABCs tells the captivating story of a young boy as he encounters mythical creatures from around the world. Each page is filled with beautiful artwork and invites readers to interact with characters from the scene causing them to react in fun and unexpected ways. Narrated by beloved actor Jim Dale, of Harry Potter audio book fame, the app is a unique experience that the entire family will appreciate.
My Beastly ABCs encourages children to strengthen their reading skills with the read-aloud feature while also learning a positive way to confront everyday apprehension. Additionally, the app includes an index where kids can find more information about each of the creatures within the story.
My Beastly ABCs for both iPad and iPhone is now available for $2.99 from the App Store on the iPhone and iPad or at http://www.itunes.com/appstore.
Trailer: My Beastly ABCs Trailer
Media Assets : https://duncanstudio.box.com
About Duncan Studio:
Duncan Studio is a full-service, creative animation house built on the idea that animation, as a storytelling tool, is truly limitless. Founded by renowned animator Ken Duncan, the studio has partnered with some of the industry's most influential leaders to produce projects of the highest quality using traditional (hand-drawn), computer animation, and stereo formats. Duncan Studio's original interactive storybook app has been so well received that the studio is following with a release of an iPhone version.