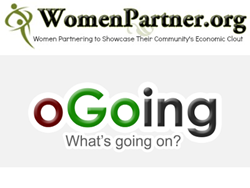 "I look forward to helping Ogoing's dynamic female members find their "five to thrive" so they can strategically grow their female client base," says Jerrilynn B. Thomas, founder, WomenPartner.org
Irvine, CA and Atlanta, GA (PRWEB) August 01, 2013
oGoing and WomenPartner.org are joining forces to help women connect, promote, network and form collaborative business relationships online and offline.
WomenPartner.org, founded by Jerrilynn B. Thomas, creates large scale collaborative projects designed to help business and professional women cross pollinate their knowledge and contacts so they can grow their female client base. oGoing provides small business owners with an amazing social media platform to promote their products, share their latest deals and services, post their news and events, and make new connections with thousands of local businesses in USA and globally.
"I am excited to collaborate with WomenPartner.org, and am looking forward to promoting women-owned businesses on Ogoing.com," said Sanjay B Dalal, founder & CEO, oGoing Inc.
WomenPartner.org recently developed a news network comprised of over 300 news sites to showcase women in business markets on 6 continents. The launch of the news network began with a virtual business tour on June 24 with all the metro women's business markets represented by them. The tour answers the question "How Do You Market Your Company to Businesswomen in Atlanta, Los Angeles, New York, Houston, Chicago, Paris, London, Sydney, Tokyo, Beijing, Mumbai & Every Other Major City Around the Globe Using the Local Resources Already in Place?".
Ogoing.com's female members will be provided with the opportunity to submit news and receive complimentary advertising by assisting with the aggregation of content related to their local women in the business market. In turn, WomenPartner.org's associates will set up their beautiful profiles on Ogoing.com to promote their companies. They will be able to follow each other on Ogoing.com to expand upon their networking interaction during and after the tour while mingling with the other companies that are members of Ogoing.com.
"I look forward to helping Ogoing's dynamic female members find their "five to thrive" so they can strategically grow their female client base," says Jerrilynn B. Thomas, founder, WomenPartner.org.
During the tour, business women will be invited to share how they are using WomenPartner.org in conjunction with Ogoing.com to boost their business exposure. Their interviews will be published on WomenPartner.org and fed through Ogoing.com's social media platform.
For more information about WomenPartner.org's virtual business tour, please visit http://womenpartner.org.
About oGoing
oGoing is USA's leading social network for small business. Over ten thousand entrepreneurs, small business owners, startups, service providers and SMB are using oGoing to connect, share, network, promote and grow their business using the latest social media. Grow website traffic, improve SEO ranking, get B2B leads and attract new customers on oGoing. Join oGoing today and Jumpstart social media marketing. Join Now.
*source: American Express Open, a small-business arm of the company