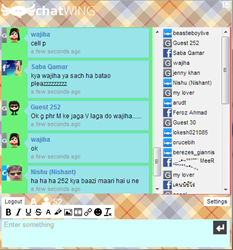 Chicago, IL (PRWEB) August 06, 2013
Different websites and blogs are all rooting for one thing: high level of visibility on the World Wide Web. The number of visitors contributes to the profit a site will gain in the long run. One of the proven strategies to achieve improved online presence is through effective web surfer engagement. Choosing quality chat apps and using its full potential is key to engage and draw in more visitors into one's site.
Recently, Chatwing introduces an improvement in its log in methods, aside from Facebook and Twitter users, Gmail and Yahoo accounts can now be used when logging in Chatwing chat app. One's site can be easily accessed by various web surfers across the globe. The site where Chatwing chat tool is installed can become an important platform where people with the same interests ad focus can come together and interact. This can make a site outstand other competitors since it offers more than quality content.
Despite Chatwing chat software's simple appearance it offers users web surfers a wide array of modification options. Users can combine colors and font styles. They can change the widget's border design and color theme. Web users can also come up with a chatbox of their own concept through CSS customization method. Three styles are also available- regular chat software, vanity URL and pop up window. These can handle thousands of users and can be used for selective chatting.
Website owners can also monitor and maintain a profanity free site with the help of Chatwing's full conversation control features. Multiple moderators can be assigned who can delete messages and eliminate web visitors who appear as nuisance to other web users. In terms of communication leverage, web owners can reach their targeted and potential clients in the shortest period of time. Inquiries can be addressed uninterruptedly.
Chatwing's chat app is committed in creating quality chat widgets that caters to the changing demands of modern web surfers and dynamic website owners. Web surfers world wide can expect more advanced features in the coming months. Chatwing team is open for comments and suggestions.
About Chatwing.com
Chatwing.com specializes in the new field of live website chat software. Over years, the development team has introduced live chat widget for hundreds and thousands of blogs. The application bridges people from many parts of the world, creating global synergy through the Internet. The shout box can be installed in just seconds, and it can be used for varying purposes such as leisure and Internet marketing. It also allows a user to customize the size, color, and name of the widget.