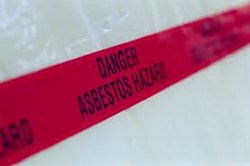 Awareness needs to be raised for circumstances where taxpayers' health is put under threat by the negligence of local authorities.
Bolton, UK (PRWEB UK) 7 August 2013
Tania and Richard Yeomans moved into their Council Home in Church View, near Berkeley, on the 11th of January, after a one-month delay due to the presence of asbestos in the bathroom. However, the day after moving in, more sheets of the hazardous material were found by the couple, surrounding the boiler inside the airing cupboard. Stroud District Council was soon informed of the finding. (1)
It is alleged that, despite being informed, the local authority did not treat it as a concern. (1)
Five weeks later, when a specialist contractor was sent to the property to remove the asbestos in the cupboard, they realised the material was Amosite; known as 'brown asbestos', Armosite is particularly dangerous, requiring a Government licence for removal. Hence the cupboard was sealed up. (1)
According to the Gazette Series, the asbestos was not removed until the 11th of April, as the Council had to reapply for the licence.
Mrs Yeomans, aged 49, a former publican of the Full Moon Pub in Wotton-under-Edge, said Council officers refused to enter their home, speaking to them through the window. She also stated that:
"We were standing there thinking, we have been living here for about four months, is it really that serious?"
"I just can't understand what has been missed when we told them it was here and for them to treat it as not an issue."
"The stress and worry from it has been terrible, at the end of the day they have put our lives at risk." (1)
According to the Gazette Series, the couple have been paid £2,600 compensation, after nine out of ten bags of clothes and towels taken from the cupboard were found to be contaminated with asbestos fibres. They are now seeking further compensation from the Council. (1)
Also, it is alleged, that the Council's contractors working in the house, left the property in a poor state: holes in walls, scratches and exposed piping are still visible throughout the property. (1)
Mr Yeomans, aged 53, was incredulous about the standard of work. He said:
"Nobody from the council has been here to check on their work. How do you allow that to carry on?" (1)
Commenting on the news, Thomas Fairclough, Executive at Asons Solicitors, made the following statement:
"What Mr and Mrs Yeomans have been coping with is truly shocking. It took the Council four months to fully remove asbestos from their property, simply unacceptable. Awareness needs to be raised for circumstances where taxpayers' health is put under threat. At Asons we deal with asbestos related diseases claims on regular basis."
"If an individual has been exposed to asbestos and developed a related disease, then they can potentially make a claim for asbestos compensation."
Asons Solicitors have a dedicated team of industrial disease specialists, dealing with cases of asbestos related diseases, giving people legal advice, particularly in the area of mesothelioma claims and asbestosis claims. Exposure to asbestos can be deadly, and Asons urge anyone who feels they may have been exposed to asbestos fibres to consult their GP immediately for a consultation, and contact an industrial disease specialist for legal representation. To find out more information on asbestos claims and mesothelioma compensation, contact Asons at http://www.asons.co.uk or phone 01204 521 133.
(1) Gazette Series, 25th July 2013 - gazetteseries.co.uk/news/10569549.Asbestos_contaminates_couple_s_clothes_after_four_month_stay_in_Berkeley_house/
ENDS
About Asons Solicitors:
Asons Solicitors is a Bolton-based law practice that specialises in personal injury and industrial disease claims. Founded by brothers Imran Akram and Kamran Akram, Asons Solicitors has developed to become a young and dynamic law firm that delivers practical solutions to clients in times of difficulty. Their continued focus on their staff has seen them awarded with the Investors in People "Gold Award"; which is reflected in the professional and personable approach they take in working with clients. They strive to grow and to develop, and their supportiveness and attention to detail ensures that their clients use them time and again.
For further information contact:
Email: info(at)asons(dot)co.uk
Website: http://www.asons.co.uk