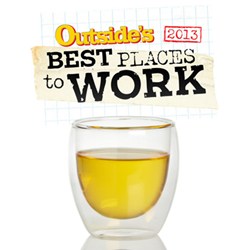 We are honored to be named to Outside's 'Best Places to Work' for a second year. We strive to enrich the lives of our employees (Ministers) by creating a work environment that supports a healthy lifestyle. . .
Novato, California (PRWEB) August 01, 2013
THE REPUBLIC OF TEA, leading purveyor of premium tea, today was named to Outside Magazine's sixth annual "Best Places to Work" list. THE REPUBLIC OF TEA was ranked No. 70 out of 100 selected companies and is the only specialty tea company to receive the honor.
Outside's "Best Places to Work" project celebrates the innovative companies setting a new standard for a healthy work-life balance. The list was compiled with the help of the Outdoor Industry Association and Best Companies Group. The yearlong selection process began with an outreach effort that identified a wide range of non-profit and for-profit organizations with at least 15 employees working in an office in the United States. Participating companies were sent confidential employee-satisfaction surveys and employer-questionnaires to collect information about benefits, compensation, policies, job satisfaction, environmental initiatives, and community outreach programs. The experts at the Best Companies Group then analyzed the results and selected the companies that best enable employees to pursue active lifestyles while also supporting their social and environmental contributions.
This year's "Best Places To Work" list will highlight not only the Top 100 companies, but will also spotlight those on the list that offer the best perks, including "Fitness-Friendly" companies, those with the most liberal "Flex Time" policies, the "Best Travel Perks", and those with the "Best Office Culture."
"We are honored to be named to Outside's 'Best Places to Work' for a second year," said Ron Rubin, CEO, The Republic of Tea. "We strive to enrich the lives of our employees (Ministers) by creating a work environment that supports a healthy lifestyle and provides educational opportunities and resources to achieve and maintain a balanced, fulfilling life. This important award validates the efforts we make to reach these objectives."
"We're proud to publicize the efforts of these 100 companies," said Outside editor Christopher Keyes. "They each show a real commitment to creating active, healthy work environments and put a premium on innovative benefits. Year after year, Outside's Best Places to Work program demonstrates that America's most successful companies are the ones that consistently promote true work-life balance for their employees."
THE REPUBLIC OF TEA offers its Ministers (employees) lifestyle benefits such as "Make a Difference" days (paid volunteerism), profit sharing, a scholarship program, childcare credit and yearly tea trips abroad to origin. In addition, as part of its Healthy Minister Program, the company provides: athletic shoes every year, access to a full-time nutritionist for individual counseling sessions, annual fitness credit for health club memberships or weight loss programs, free on-site weekly yoga classes and encourages its employees to take 10-20 minute walking breaks daily.
CONTACTS:
THE REPUBLIC OF TEA: Beth Parent, beth(at)republicoftea(dot)com, 802.863.3929 ext. 119
OUTSIDE MAGAZINE: Jada Williams/ Jada(at)giantnoise(dot)com / 646.649.4933
ABOUT THE REPUBLIC OF TEA
The Republic of Tea enriches people's lives through its premium teas, education and innovation, as it emphasizes a "Sip by Sip Rather Than Gulp by Gulp" lifestyle. Founded in 1992, The Republic of Tea sparked a specialty tea revolution. Today the brand offers an unequaled selection of the highest-quality teas, herbal blends, books and nature-inspired sipware, available exclusively at specialty retailers throughout the U.S. Further, The Republic of Tea is mindful of how its actions impact the greater community and actively supports worthy organizations like the Whole Planet Foundation, the Prostate Cancer Foundation, Room to Read, Action Against Hunger, The Ethical Tea Partnership, Rainforest Alliance certification and Non-GMO Project verification. For more information, please visit http://www.REPUBLICofTEA.com or call 1.800.298.4832. Follow The Republic of Tea on Twitter at twitter.com/republicoftea and Like us on Facebook at http://www.facebook.com/RepublicofTea.
ABOUT OUTSIDE
Outside is America¹s leading active lifestyle brand. For more than 30 years, Outside has covered travel, sports, adventure, health, and fitness, as well as the personalities, the environment, and the style and culture of the world Outside. The Outside family includes Outside magazine, the only magazine to win three consecutive National Magazine Awards for General Excellence, The Outside Buyer's Guides, Outside Online, Outside Television, Outside Events, Outside+ tablet edition, and Outside Books. Visit us online and on Facebook.
ABOUT THE BEST COMPANIES GROUP
Best Companies Group works with national and local partners around the country to establish and manage "Best Places to Work," "Best Companies," and "Best Employers" programs on a national, statewide, and regional basis. Through its thorough workplace assessment, utilizing employer questionnaires and employee-satisfaction surveys, BCG identifies and recognizes companies who have been successful in creating and maintaining workplace excellence.
ABOUT THE OUTDOOR INDUSTRY ASSOCIATION
Founded in 1989, Outdoor Industry Association (OIA) is the premier trade association for companies in the active outdoor recreation business. OIA provides trade services for over 4000 manufacturers, distributors, suppliers, sales representatives and retailers in the outdoor industry. Outdoor Industry Association seeks to ensure a healthy and diverse specialty retail and supply chain based on quality, innovation and service. To this end, OIA works diligently to raise the standards of the industry; increase participation in outdoor recreation to strengthen business markets; provide support services to improve member profitability; represent member interests in the legislative/regulatory process; promote professional training and education; support innovation; and offer cost-saving member benefits. Search for outdoor-industry jobs is at OIA's career center:http://www.outdoorindustry.org.