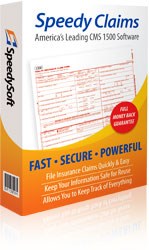 "This is, by far, the easiest software I have used!"
Francis Young
Billing Specialist
Eustis, Florida (PRWEB) August 02, 2013
SpeedySoft USA, an established innovator in medical billing, announces the launch of Speedy Claims, a software product for healthcare professionals and practice administrators responsible for medical billing. The only product of its kind now available for use with the new 02/12 CMS 1500 forms, Speedy Claims simplifies the process of billing Medicare and all other insurance carriers.
"For nearly a decade, we've listened to the thousands of the doctors and practice administrators that we do business with and used their feedback to create the sixth generation of Speedy Claims," reports Dan Perrine, SpeedySoft's founder and CEO.
Billing Software Saves Practices Money
Perrine and his associates developed Speedy Claims for small-office healthcare providers who do not rely on a billing service or billing staff. "It is a time and cost-saving solution at an affordable price that helps money flow into a practice, not out of it."
Perrine has been in the medical billing industry since 1997, first as a biller then as a business owner that supplied everything needed for billing to medical offices in 6 continents and over 80 different countries. "I've built my success building businesses backed up by customer service practices that set a standard for the medical billing industry and save my clients money," says Perrine with pride.
Medical Billing Changed & So Did Speedy Claims
During the time between the announcement and the implementation of new CMS 1500 forms, SpeedySoft USA developers were "working to help our clients get ahead of the curve," says Perrine. "Our goal was to bring something to market as far ahead of the implementation date as possible to allow practices to learn and adopt prior to the changeover, not in the midst of it."
The new software was created in response to government mandates, but the practical needs of its users were also front-of-mind in the team developing the latest version of Speedy Claims. Once customized based on a provider's practice, for example, Speedy Claims billing software enables any field or setting to be automatically completed as soon as a form is opened. With every claim, the information is saved for reuse and repeat patient claims are completed with just three clicks.
Additionally, an automatic "Claims List" keeps track of the status of each claim, helping providers get a valuable overview of their cash flow.
More than Time Is Lost on Medical Billing
A 2010 New York Times article entitled "Doctors and Patients Lost in Paperwork" written by Dr. Pauline Chen reported in part, "Paperwork, or documentation, takes up as much as a third of a physician's workday; and for many practicing doctors, these administrative tasks have become increasingly intolerable, a source of deteriorating professional morale. Having become physicians in order to work with patients, doctors instead find themselves facing piles of charts and encounter and billing forms, as well as the innumerable bureaucratic permutations of dozens of health insurance companies."
"At SpeedySoft USA, we understand the importance of streamlining business processes," reports company spokesperson Dan Perrine. "Speedy Claims and our software solutions are good for the health of practices and the health of practice owners, too.
Speedy Claims makes it easy to changeover to the new normal CMS 1500 forms. This is welcome news on many levels to busy healthcare professionals including psychiatrists, psychologists, licensed clinical social workers, chiropractors, and other non-institutional providers who want to spend more time with their patients without sacrificing practice profits.
For more information about Speedy Claims and the complete suite of medical billing services and support offered by SpeedySoft USA, please their website.