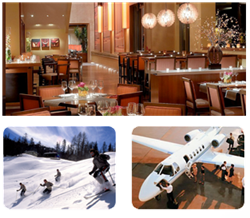 Silver Retreats is professional business with individuals who possesses a deep knowledge of all aspects in the event planning industry. They took all my worries and guess work away.
Park City, UT (PRWEB) August 02, 2013
Silver Retreats received yet another award for their exceptional service. Silver is a true "all-inclusive" corporate retreat company and according to recent studies conducted by top magazines in the world, employees perform, collaborate more as a team, develop better communication skills and are more engaged when a company rewards them with incentives, such as corporate retreats. Give associates an experience that is outstanding and far from the typical retreat or family vacation. Silver will do all the planning from assisting in presentations, to customizing invitations, to motivational speaking assignments. Yes, Silver Retreats will handle all details to guarantee that each daily event or conference exceeds all expectations and inspires associates to thrive in the workplace.
The CEO/President of Silver Retreats, Bill Schuffenhauer, was tired of the old-fashioned employee retreats that were frequented through-out his careers. The retreat that is secretly dreaded because it entails sitting around a table for two days while employees listen to a supposed expert talk about how to maximize supply chain or how to boost morale and how create a winning team. This is the primary driver of why Silver Retreats was created. Silver will change how employees view retreats and will come out engaged and ready to perform.
How is Silver Retreats different than others in the industry? At Silver being treated as royalty and feeling like a celebrity is the way the guests describe it. Silver Retreats' Gallup Survey lists the company as "world-class / exceptional 5-star service." At Silver Retreats luxury and class are the standard. Silver does all of the planning and provides amenities, that which can be incorporated into either an executive retreat, corporate retreat, team building event or a private vacation.
Silver's team, will plan an unforgettable escape with exclusive dining reservations, team building exercises, adventures, VIP club entries, chef table dinners and any other special requests. Whether it's making arrangements for an activity, or looking to stay in a private home with an executive chef or stay in a hotel and dine at some of the most exquisite restaurants, Or maybe looking for a luxury vacation or the spur-of-the-moment getaway with the family. Silver is able to accommodate all size groups and all requests. No task is too great for Silver Retreats.
Silver Retreat Benefits:

4 & 5 Diamond Resorts
Luxurious Accommodations
Easily accommodate groups of 10 – 5,000
Banquets, Receptions & Events
All Meals & Beverages
Unlimited Meal Functions
Private Plated and/or Buffet in Ballroom
Motivational Speaking
Wine Paring or Cocktail Parties
Independent Group Check-in
Daily Activities / Entertainment / Motivational Speaking
VIP Club Entries
Adventure and Team Building Activities
Silver offers an array of team building experiences through-out the world, but a popular one in Utah is the bobsled at Olympic Park. This team building experience is only available for Silver's clients and not open to the public. This is where Bill will take teams on a personal tour of the Olympic Park, the location of where Bill won his Silver Medal in the 2002 Winter Olympics. The tour will start at the Olympic Park museum, which is filled with absolutely fascinating Olympic history and memorabilia. Bill will share details and stories that are both eye-opening and heart-warming, leaving the group with a new appreciation of what it means to be a team player. The museum also showcases the gear worn by Olympian medalists, including Bill's Olympic gear-a perfect opportunity for one on one pictures.
After the museum tour the group will be escorted to the top of the Bobsled track that Bill competed on-time to take the 80mph bobsled ride and endure up to 4.5 G-forces down the mile long track to win some awards. Team will then move to one of the exquisite meeting spaces that are surrounded by the spectacular mountains of the Olympic park where the group will be treated to a superb catered meal and listen to Bill speak about one of many topics that he discusses on how to win like an Olympian.
Although Silver was created with corporate team building retreats in mind, Silver also provides extensive personalized packages that cater to all sizes and types of groups. Packages include transportation, lodging and dining accommodations, custom activities. Regardless of the occasion, Silver will plan and organize every integral part of your trip, ensuring your retreat will be an incredible experience that will not leave you disappointed.
The Executive Team at Silver Retreats are no strangers to hard-work, motivation and the corporate society. Bill Schuffenhauer, Chief Executive Officer, participated in many national and international special events comprised of fundraisers, charity events, and keynote speaking opportunities, entertainment and product promotions after his Olympic victories. Along with his long and successful devotion to sports, Bill has made a positive impact with local and national youth groups and with those of the business community as well. Bill has traveled the world as a motivational speaker and has worked with companies and organizations such as Budweiser, Special Olympics, United Way, Adecco, Glaxo Smith Klein and Proctor & Gamble
Jyl London, Chief Operating Officer, joined Silver Retreats with over 16 years of experience in directing and leading Fortune 500 companies. Advocating and mentoring key accounts in several high grossing companies mixed with the love of motivating, event planning and strategizing teams internationally makes Jyl's vast knowledge the absolute fit for Silver Retreats. In addition, Jyl is the Founder/President of a 501(c)3 non-profit organization, Love of Life (LOL) Foundation, assisting families with financial burdens by raising money through events planned by both Jyl and Bill.
Together Bill and Jyl have perfected an incredible retreat, that is like no other. The combined experience and their lifelong passions for helping others, while treating everyone like VIP, will guarantee an outstanding experience that is far from the typical retreat or family vacation. It is no wonder why Silver Retreats is receiving award after award for its outstanding service and value since the team paired up. For more details please visit http://www.silverretreat.com/ or call us today and setup your perfect company or private outing.