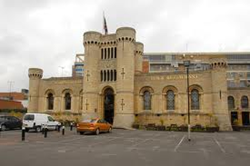 Over 500 lots to be offered for sale complete contents of restaurant and bar
London (PRWEB UK) 1 August 2013
The owners of the Sessions House in Thorpe Road who purchased the former Mitchell & Butlers Tavern in 2002, are hoping to capitalise on the future redevelopment of the former Peterborough District Hospital site.
The Sessions House is a listed building built in 1842 and was the visible front of Peterborough Prison, It closed as a prison only 36 years later but remained a police headquarters until 1931 then a magistrate court until the 1980s, when it first became a bar and later a bar & carvery restaurant.
The auction sale will include the furniture, carvery counters and bars, commercial catering equipment and general contents of the restaurant operation with a great selection of used catering equipment and restaurant items to suit every type of hospitality business.
The auction is targeted towards other bar and restaurant operators, but a lot of times when a restaurant closes, customers do not get an opportunity to say "goodbye" said Simon Rose Director of the auctioneering team leading the sale, "by way of the auction many of the people who dined there over the years get an opportunity to bid on items and buy a piece of its history," he said.
Pro Auction are one of Europe leading specialist auctioneers and valuers of plant and machinery, catering & hospitality and food processing equipment, with sales conducted throughout the UK and Europe, running both traditional and online auctions throughout Europe, using the latest auction platforms and software, developed to meet the demands and needs of both the seller and purchaser.
The company provides expert advice to operators, owners and turnaround professionals and is widely acknowledged as a leading provider of machinery and business asset advice from initial valuation to exit strategy planning and implementation helping clients through the whole process.
The sale will take place online at http://www.proauction.com on 12th September 2013, with lots closing from 2pm, viewing to inspect the equipment is offered on the 11th September 2013 from 10am until 6pm and on the morning of sale from 10:00 am.