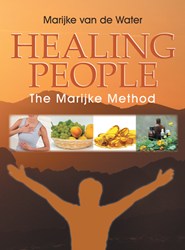 Drugs and surgery are not always the answer.
Vancouver (PRWEB) August 02, 2013
Blending science and natural medicine has led author Marijke van de Water to develop a new process of specialized kinesiology.
Her new book, Healing People: The Marijke Method, shows readers how to take control over their own well-being. Through the Marijke Method, anyone can identify the real and underlying cause of an ailment or disease, whether physical, mental or emotional, and then correct it with a personalized health program.
"Drugs and surgery are not always the answer," said van de Water. "My process educates people on the power of diet and nutrition. It breaks away from tradition to give people the facts on the relationship between nutrition, natural medicine and disease."
Van de Water is an experienced nutritionist and homeopathic healer who has been healing thousands of clients for over 20 years. Her book empowers readers to be their own healer.
Healing People: The Marijke Method
By Marijke van de Water
ISBN: 978-1452560885
Retail price: $24.95
Available at amazon.com and barnesandnoble.com.
About the Author
Marijke van de Water holds a B.Sc. in Clinical Nutrition and a Diploma in Homeopathic Medicine & Science. She has been in private practice for over twenty years as a widely respected healer. She is a gifted medical intuitive who blends her vast knowledge of science, health and nutrition with natural medicine, kinesiology and energy work. As an avid horse enthusiast, she has published Healing Horses: Their Way!