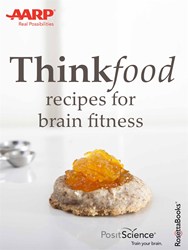 "Too often, when we think about staying fit, we generally think from the neck down. ThinkFood recognizes the importance of our brain and its need for care and maintenance," said Jodi Lipson, director of AARP's Book Division.
(PRWEB) August 08, 2013
New York, NY August 8, 2013: New scientific research reveals that food can play an important role in helping to keep your brain in top form. AARP's latest book, ThinkFood: Recipes for Brain Fitness (Posit Science; 978-0-578-06124-5; May 2013; $19.99, eBook published by RosettaBooks; $14.95; http://www.aarp.org/ThinkFoodcookbook) offers a variety of delicious recipes enhanced by ingredients that science and research suggest help keep the brain healthy.
Culling together 50 tasty recipes, Posit Science, a leader in providing scientifically validated brain fitness exercises and education, joined with 50 popular food bloggers to create an assortment of "brain-friendly" dishes. ThinkFood includes beautiful full-color photos of recipes and ingredients and a clean, readable layout in a format that is attractive on a kitchen counter, coffee table or screen. Providing ample information on brain-healthy eating, the cookbook's recipes (including Chicken and Pecan Enchiladas, Spicy Almond Soba Noodles, Garlic Salmon over Spinach, and Banana Oatmeal Cookies) embrace brain health as part of overall physical fitness—all while satisfying taste buds.
"Too often, when we think about staying fit, we generally think from the neck down. ThinkFood recognizes the importance of our brain and its need for care and maintenance," said Jodi Lipson, director of AARP's Book Division. "This book provides readers of all ages with fun and tasty ways to lead healthier lifestyles."
"AARP offers a variety of beneficial information to the public, and ThinkFood reflects a key area of interest," said Arthur Klebanoff, CEO of RosettaBooks.
"As the provider of the online exercises in AARP Brain Fitness powered by BrainHQ, we are pleased to extend our AARP relationship to providing additional resources for whole brain health," said Dr. Henry Mahncke, Posit Science CEO.
ThinkFood: Recipes for Brain Fitness is available in print and ebook format. For a complete catalogue of books from AARP, please visit aarp.org/bookstore.
About RosettaBooks: RosettaBooks is the leading independent eBook publisher, responsible for brand line publishing in collaboration with AARP, Harvard Health Publications, and Mayo Clinic, as well as such timeless classics as Brave New World, Slaughterhouse-Five, The 7 Habits of Highly Effective People, the complete works of Winston Churchill, and the first-time digital release in the U.S. of 35 titles from renowned science fiction author Sir Arthur C. Clarke. Publisher of ten Kindle Singles, including Ray Bradbury's The Playground, RosettaBooks has launched nine of them to bestseller status. For more information, please visit RosettaBooks.com and follow the e-publisher on Facebook.
About Posit Science: Posit Science is the leading provider of clinically proven brain fitness training. Its exercises, available online at http://www.BrainHQ.com and (as the technology behind AARP Brain Fitness) at brain.aarp.org, have been shown to significantly improve brain speed, attention, memory and numerous standard measures of quality of life in multiple studies published in more than 60 peer-reviewed articles in leading science and medical journals. Three public television documentaries as well as numerous stories on news programs, in national magazines, and in major newspapers have featured Posit Science's work. The company's science team is led by renowned neuroscientist Michael Merzenich, PhD.
About AARP: With a membership of more than 37 million, AARP is a nonprofit, nonpartisan organization that helps people turn their goals and dreams into real possibilities, strengthens communities and fights for the issues that matter most to families such as healthcare, employment and income security, retirement planning, affordable utilities and protection from financial abuse. AARP advocates for individuals in the marketplace by selecting products and services of high quality and value to carry the AARP name as well as help our members obtain discounts on a wide range of products, travel, and services. A trusted source for lifestyle tips, news and educational information, AARP produces AARP The Magazine, the world's largest circulation magazine; AARP Bulletin; http://www.aarp.org; AARP TV & Radio; AARP Books; and AARP en Español, a bilingual news source. AARP does not endorse candidates for public office or make contributions to political campaigns or candidates. The AARP Foundation is an affiliated charity that provides security, protection, and empowerment to older persons in need with support from thousands of volunteers, donors, and sponsors. AARP has staffed offices in all 50 states, the District of Columbia, Puerto Rico, and the U.S. Virgin Islands. Learn more at aarp.org.
Press Contacts:
David L. Allen I AARP I dallen(at)aarp(dot)org
Navjot Khalsa I Digital Marketing Manager I nkhalsa(at)rosettabooks(dot)com
Peggy Jara I Harden Communications I pjara(dot)hardenpartners(dot)com