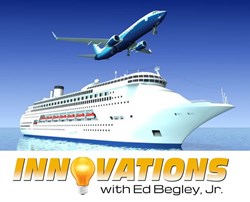 Jupiter, FL (PRWEB) August 06, 2013
Innovations Television, produced by DMG Productions, announced today that they are gathering content for upcoming episodes of Innovations, focusing on travel and tourism, slated to air second quarter 2014.
In this special segment feature, Innovations will take a closer look at the hospitality industry by highlighting hotels, spas, and inns that are dedicated to growth and development.
From ski slopes to vineyards, tropical resorts to metropolitan life, this feature episode showcases a wide array of some of the most renowned and well-kept secrets our country has to offer. Innovations believes that by promoting tourism, the travel industry can help stimulate local economies, adding growth and development across the country and the globe.
"Keeping the American tourism dollar inside America is obviously an advantage when traveling nationally. This series is not designed to showcase lavish travel expeditions Americans are currently missing out on; the purpose is to educate viewers on what they might not be aware of in terms of travel destinations inside their own country," says Production Manager, Chad Densen.
About DMG Productions and Innovations:
DMG Productions is well respected in the community as a content provider and producer of educational television programming. Best known for their award winning medical series, "Health Heroes", the agricultural phenomenon, "American Farmer", and the financial series, "Business Update"; DMG is dedicated to enriching the lives of their television viewers.
In 2013, DMG added Innovations to their line-up of educational programming. This comprehensive and compelling series, hosted by Ed Begley Jr., is an information-based series geared toward educating the public on the latest breakthroughs in all areas of society. Featuring practical solutions and important issues facing consumers and professionals alike, Innovations focuses on cutting-edge advancements in everything from health and wellness to global business, renewable energy, and more.
For more information visit: http://www.innovationstelevision.com or call (866) 496-4065.
Media Contact:
Chad Densen, Production Manager / Innovations
(866) 496-4065 x 801 / chad(at)innovationstelevision(dot)com