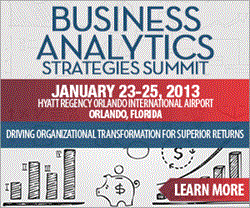 "What gets measured, gets managed."-- Peter.F. Drucker
Orlando, Florida (PRWEB) August 01, 2013
The Global Strategic Management Institute (GSMI) is pleased to present the Business Analytics Strategies Summit (BASS) at the Hyatt Regency Orlando International Airport in Orlando, Florida, September 17-19, 2013. Big and small firms can learn from Wipro, Nokia, eBay, Monster and many other big brands, on how to harness big data, use analytics and intelligence for better business performance and superior returns.
Business analytics has moved into center-stage. With this in mind, GSMI will be hosting BASS to answer key questions that surround business analytics and address challenges when a company decides to move from intuition-based decision making to a fact-based decision making environment.
K.R. Sanjiv, Senior Vice President and Global Head of Analytics and Information Management, Wipro, is responsible for the strategy and operations of this unit globally. Since joining Wipro in 1989, Sanjiv has been involved in defining enterprise architectures for organizations that included technical models, transformation program definitions and governance models.
Sanjiv will be delivering a keynote session on September 18th on "Big Data: Bridging the Chasm Between Reality and Hype." As big data becomes the key provider for organizations to build and grow, there exists a gap between adoption and the heightened gains achieved from a data-driven culture. Sanjiv's presentation will discuss creative frameworks and models that can be implemented to close this gap.
The three-day summit will provide attendees with knowledge on how to use data to improve a company's effectiveness and competitive positioning and more importantly how company leaders can create and sustain an analytics vision. The summit offers a case-study focused agenda, in-depth workshops, three intensive technology labs and four informational tracks. Attendees will have an opportunity to hear from industry experts and colleagues, on key topics such as:

Initial Steps to becoming an Analytical Organization
Assessable Data Visualization
Social Media and Analytics
Driving Decision-Making with Data
Analytics Talent Acquisition
BASS tickets are on sale and registrations before August 2nd, 2013 will receive a $100 early bird discount. Group discounts are available.
About Global Strategic Management Institute:
GSMI is a leader in the industry of executive education, creating conferences, summits, workshops and training sessions that combine rich learning environments with the opportunity to network with today's most relevant thought- leaders, speakers and practitioners. GSMI's annual events have reached 80% of the Fortune 500 companies, in over 30 countries, and cover topics that today's leaders find most challenging and inspiring. More information about Global Strategic Management Institute can be found at: http://www.gsmiweb.com.