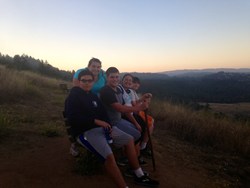 "Parks provide a great opportunity for kids to stay active in the summer months,
commented Christine Johnson, BalanceME Program Director
Boston, MA (PRWEB) August 01, 2013
BalanceME weight loss camps for kids in connection with Michele Obama's Let's Move campaign support National Park Month. With a few short weeks left in the summer, BalanceME encourages kids of all ages to take advantage of the summer weather and get active at a local park or recreation area.
"Parks provide a great opportunity for kids to stay active in the summer months. With different programs and activities being held all month long there is little reason to miss an opportunity to get outside and play!" commented BalanceME Program Director Christine Johnson. "BalanceME weight loss camps for kids prepare campers to stay active when they return home through using local parks to show campers how to keep moving in parks back home."
July is a great chance to get active and begin to develop healthy habits that families can follow all year long. According to the National Recreation and Parks Association, parks and recreation space are a critical solution for our nation's health epidemic.
"There are so many types of parks out there whether you are looking to hike, bike, walk, swim, or simply get outside," commented Ms. Johnson, "At BalanceME weight loss camps for kids and teens, we help campers see the joy and opportunity of enjoying our varied national treasures."
Families looking to connect with local parks in their area can find resources online at Discover the Forest or at the National Parks website. For great resources on developing workouts using local parks and recreation areas, Fitness magazine has created a great tool: http://www.fitnessmagazine.com/workout/lose-weight/total-body/park-workout/.
To learn more about how BalanceME is supporting National Parks Month, please call us at (800) 975 - 0435.
BalanceME designed the ME Plan to Motivate & Educate on what medical research shows works for sustainable fitness, weight loss, and health success. Founded by professionals and guided by experts who have led some of the largest behavioral health, mental health, and treatment programs in the country, BalanceME is working to become the leader with a focus on improving an individual's overall health. BalanceME developed the BalanceME Health Score© to rate a person's overall medical, emotional, and fitness health status as well as show a person's progress towards health norms. BalanceME operates weight loss summer camps, local programs, and fitness programs for adults. For additional information please visit http://www.BalanceME.com or call (800) 975-0435.