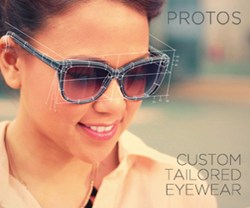 San Francisco, CA (PRWEB) August 01, 2013
The eyewear industry is about to change drastically. Protos Eyewear's crowdfunding campaign is looking to raise $25,000 in 60 days. In exchange for peoples' donations, Protos Eyewear will be offering their products at a highly discounted rate. Protos is a company that can custom fit 3D printed eyeglass frames to your unique facial structure and dimensions. Using an algorithm that analyzes two photographs of your face, Protos' software is able to make changes to a computer file which is then sent to a high end 3D printer. The San Francisco-based startup had high hopes and of becoming the next Pebble Watch promo on Kickstarter. Due to changes in the rules at Kickstarter, they were told that they could not use their platform. Eyewear projects, along with a few other types of products, are not allowed on Kickstarters crowdfunding website.
The team at Protos Eyewear did what any dedicated startup would do, and sought out their own platform for crowdfunding. Without being able to leverage Kickstarter's traffic and notoriety, the team put together a strategy of their own.
CrowdHoster, a subsidiary of Crowd Tilt, another San Francisco startup less than ten blocks away, helped Protos put together a campaign to begin funding custom fit eyewear.
What really makes this crowdfunding campaign stick out:
1. Tailored Fit - Protos' innovative process allows users to select and alter the design of each pair of glasses to fit its intended user.
2. Innovative Designs- Protos eyewear offers designs that can only be made by leveraging the most cutting edge software and 3D printing technology.
3. Unique Material and Manufacturing Methods - Protos' striking eyewear frames also feature strong and lightweight materials.
4. Environmentally Friendly - Protos frames are made from bioplastic and are hypoallergenic. Our 3D printing process doesn't produce any waste material.
5. Made in the USA - Protos is bringing manufacturing back home.
Check out their video and campaign at: http://protoseyewear.com