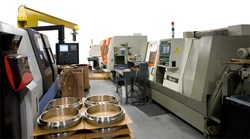 Texthread's new facility specializes in producing technical parts machined to exacting tolerances.
Houston, TX (PRWEB) August 02, 2013
Texthread, Inc. recently completed the acquisition of a high-tech CNC machining facility. This machine shop specializes in the machining of complex gaskets and seals for the oil field as well as specialty technical parts machined to exacting tolerances. The shop is highly experienced in machining a variety of materials with an emphasis on inconel, monel, and other exotics. Parts can be produced up to 24.5 inches in diameter and 80 inches long.
As stated by Texthread President, Richard Owen, "With this new acquisition, Texthread has greatly expanded our capability to produce specialty machined components to complement our existing product lines of threaded products and ring joint gaskets." The new machine shop is a clean, air conditioned facility with top of the line CNC machine tools that are all less than four years old. The shop is staffed with highly qualified and experienced machinists as well as the personnel and equipment to provide extensive quality control.
About Texthread
Texthread is a manufacturer of the highest quality industrial threaded products, gaskets, seals and precision machined components. Texthread stocks a large inventory of API ring gaskets. Texthread has full-line machine shop capabilities as well as finishing processes for products to be heat treated to ASTM requirements and supplied with a variety of coatings to meet customer specifications. Based in Houston, Texas, Texthread is recognized for the quality of its products and is ISO 9001 Registered.