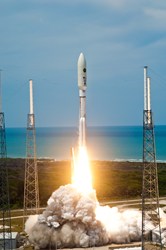 The award includes all four ULA launch sites (one each for Delta IV and Atlas V at East and West Coast launch facilities) and will encompass the supply of required system equipment along with site installation and activation.
Santa Maria, California (PRWEB) August 01, 2013
Quintron Systems, Inc. (quintron.com), the recognized leader in interoperable Enterprise-Class Systems for Security Command, Control & Communications, is pleased to announce that the long association with United Launch Alliance (ULA) for critical launch operations communications will continue following a recent competitive award for replacement of the existing DICES III systems with state-of-the-art DICES VoIP equipment. "This decision followed an extensive analysis conducted by ULA between multiple potential vendors, including factory visits to verify functionality to ULA requirements," said David Wilhite, President and Chief Operating Officer at Quintron. "The award includes all four ULA launch sites (one each for Delta IV and Atlas V at East and West Coast launch facilities) and will encompass the supply of required system equipment along with site installation and activation."
The existing DICES III equipment at the four launch sites is of various vintage, with the oldest dating back to 1996. All systems were still providing acceptable service, but ULA understood the need to update this critical launch operations service for another 15-20 years of successful mission support, plus address concerns for equipment and systems moving toward end of life. The unique DICES VoIP server-based architecture not only supports all traditional user features and services, but also provides the most cost-effective approach as well.
Several new system features will be incorporated with these deliveries, including the ability for users to utilize individual login with customized configurations along with the more traditional approach to download configurations directly to selected user stations. This supports the most flexible use of the system features and provides "power users" the ability for much greater control over their operating environment without requiring central system administration reconfiguration support.
Another item to be added as part of this contract is a new user station design, providing full touch screen operation in a 2RU (3.5") console opening. This will support direct form, fit, and function replacement of the existing user stations (to prevent console changeover problems), while also providing the greatly enhanced features inherent in the touch screen panels versus older technologies.
"Quintron has enjoyed the long-standing relationship we have had with ULA and its predecessor companies, Boeing and Lockheed Martin," added Wilhite, "and winning this award certainly helps validate the quality of our equipment and support, while also providing ULA a best-practice and competitive solution."
The project will be fast moving, with initial system equipment production already underway at the Quintron factory in California. Installation of the first operational site is planned for Delta IV operations at Vandenberg AFB in the fourth quarter of 2013 with the other sites being scheduled around launch support needs. The expected completion for the entire project is mid-2014. Total deliveries will include more than 500 user stations distributed over the four central servers with replication and failover protection provided between the normally autonomous launch sites.
"Quintron continues to deliver quality solutions with the highest technology available," said Mark Dowhan, vice president of ULA Launch Operations at ULA. "Their latest VoIP offering is another example of this, and coupled with their proven long-term support makes them the obvious choice to upgrade our launch communications equipment."
For more information about Quintron solutions and services call 805.928.4343 or visit quintron.com.
About Quintron
For over 43 years, Quintron has provided high technology and cost effective solutions worldwide to government and industry in support of mission critical communications and security requirements for command and control applications. No other company offers the depth of expertise found at Quintron in fault tolerant, interoperable communications, and security systems. In addition to providing advanced products and systems, Quintron's professional technical services capability provides a superior level of customer satisfaction. Quintron's engineering services provide off-the-shelf or customized engineering solutions to solve the toughest of challenges facing customers. Visit quintron.com or call 805.928.4343 for more information.
The Quintron Logo is a registered trademark of Quintron Systems, Inc. All other trademarks in this release are the property of their respective owners.