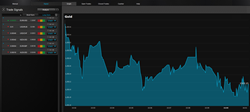 (PRWEB UK) 6 August 2013
After a series of recent innovations, TRADOLOGIC released one more new product to the financial trading market. In order to meet the demand of the fast-paced industry, the global leader in binary software developed a feature for signal trading that can be easily customized according to the needs of each individual client.
This unique feature possesses several exceptional qualities:

available both on the web and as a download version which enables clients to use it from the web or from desktop
amazing interface, which enhances the pleasure from trading
customizable to client's preferences
allows users to trade signals and regular options
gives users the ability to change the signal's algorithm
allows traders to add plugins with their algorithm / strategies (like MetaTrader's plugin)
offers the ability for set Auto-Trading according to the trader's setting
You can find an example for Signal trading here: http://www.optionbit.com/algobit/ (requires registration).
The download version has numerous advantages including:

a wide variety of functions
outstanding performance
easy to access from user's desktop, reminding end users to trade
TRADOLOGIC's innovation enables users to trade both signals and regular options while at the same time gives them the opportunity to receive signals for both short-term and long-term trading.
Moreover, this remarkable feature allows traders to add plugins with their algorithm and strategies and gives them the impressive ability to set Auto-Trading according to the trader's setting and therefore delivers TRADOLOGIC's clients superior value. All these advantages make Signal Trading an excellent user's choice.
About TRADOLOGIC: TRADOLOGIC is a company founded by the pioneers of the binary options trading. Nowadays, the company is the global leader in this field. The company's success is based on its constant effort for improvement and strives for excellence. TRADOLOGIC develops innovations and creative products that can satisfy the wants and needs of all the company's clients.