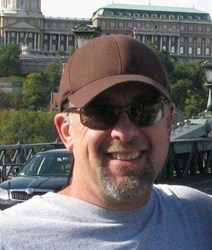 Our economic future is in a highly vulnerable state.
London (PRWEB UK) 6 August 2013
Saving Miguel is a novel set in the near future and asks us to confront a world where pensions are gone, hedge funds have dissolved into smoke and the banks have all collapsed. Into this canvas Branney paints a stark picture of the rise of the Oligarchs, a few rich and powerful men to rule over this new world. These new monarchs govern their worldly fiefdoms and subjects through fear and intimidation, establishing a modern-day feudal system rivalling that of Medieval Europe.
Author John Branney spent twelve years observing the world's financial markets and watching them implode. In this time, the world has witnessed the technology crash, subprime loan crisis, an overall sluggish global economy, persistently high unemployment, out-of-control government spending and stimulus, the European banking crisis, and the slow growth in the previously hot economy in Asia.
The green shoots of recovery are delicate at best and the first winds of complacency are likely to uproot them and cast them to the rocks. This books serves as a timely reminder of the need to tend these shoots with care.
"I watched the financial decline unfold like a horror story playing out," said John. "I wondered what the world would look like if the global economy collapsed? What would happen to governments? What would happen to ordinary citizens who rely on pension funds and investments for retirement? Who would rule this new world?"
'Saving Miguel' takes place in the not too distant future when the global economy collapses into the deepest abyss the world has ever known, pushing over seventy-five percent of the world's population into poverty. Most of these people lose to this global economic crash. Security, money, dreams, and most importantly, hope for the future all destroyed by the greed of a few. Out of this mix comes one boy who must be protected at all costs. Miguel is just a boy but he is the only hope the world has left.
John Bradford Branney was born and raised in the United States and attended the University of Wyoming where he received a B.S. degree in Geology. Upon graduating, John entered the oil and gas industry as an engineer. Over his career, he held various positions in field operations, sales and marketing, logistics, program management, and the supply chain. During his career, he also obtained an MBA degree from the University of Colorado. John currently lives in Houston Texas with his wife, Theresa. Saving Miguel is Branney's second published book.
For more information, visit the author at Saving Miguel by John Bradford Branney on Facebook and at his blog at http://johnbbranney1.blogspot.com/.
'Saving Miguel' is available in all good bookshops and online retailers both as a paperback and eBook in all popular formats.
Mirador Publishing can be contacted via their website at http://www.miradorpublishing.com.