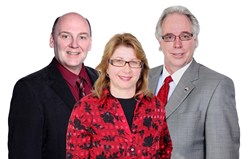 Milwaukee, WI (PRWEB) August 01, 2013
Finding one's career niche is crucial for a future of fulfillment and success. This is no secret to Milwaukee realtor, Jay Krickeberg, who has devoted much of his practice catering to the real estate needs of seniors. Having so many close relatives in their 80's, Krickeberg developed a kinship to seniors, and discovered a unique gratification in assisting with their special real estate needs.
In a recent interview with Robert Warde, when asked "what he enjoys about working with seniors?" Jay Krickeberg said, "They are very kind and respect your professional knowledge. They are also peaceful. The world of real estate can at times be fast paced and a bit hectic. Working with seniors gives me a chance to slow things down a bit, which I enjoy. One great benefit of talking with the senior sellers is they can tell you about how they built their home, give you the history of the house and share stories of how they raised their family in the home."
With the passion and dedication firmly in place, Krickeberg knew that to best serve the needs of potential senior clients that he should receive certification in the field. With the goal of becoming a premier real estate agent for seniors, Krickeberg obtained his Senior Real Estate Specialist (SRES ®) designation. Currently, The Krickeberg Group's clientele is made up of 30% - 40% seniors.
As a senior real estate agent in Milwaukee, there are many benefits that Krickeberg enjoys when working with senior sellers, what stands out the most is that they help slow him down. Jay and his team, comprised of his wife, Lisa as the team's administrator, and licensed broker, Rodney Van Wyngeeren, make up The Krikeberg Group. Jay and his team are dedicated to meeting the individual needs of senior home sellers, and understand all details must be gone over in greater detail than the average seller, and are willing to provide the extra time that it takes to offer personable service to each client.
It is for his wonderful service and dedication that Jay Krickeberg has received the honor of Realtor of the Week! You can contact Jay directly by calling 414-254-4845 or via e-mail at jkrickeberg(at)gmail(dot)com.
For more information on Jay Krickeberg and his work with senior real estate services, visit http://www.krickeberggroup.com.