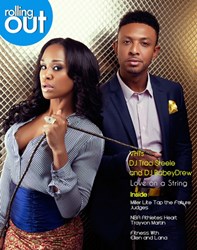 It was like Ebony and Ivory.
Atlanta, GA (PRWEB) August 01, 2013
DJ Traci Steele and DJ Babey Drew have a reality show within reality show that is the ultra-popular "Love & Hip Hop Atlanta." Their relationship, even though they've been broken up for seven years, resembles the weather in the Caribbean islands they're from. It can be beautiful and calm one moment, but then, it can quickly mutate into a Category 5 hurricane the next.
The two renowned DJs have added a lot of flavor to one of the most popular and addictive reality shows on television that was already overflowing with outsized and volatile personalities.
"I taught her how to make money. She taught me how to keep it. If I didn't teach her how to make money she would not be the hustler she is. And if she didn't teach me how to keep money, I wouldn't have money today. It was like Ebony and Ivory. Peaches and Cream," shares Babey Drew during a recent heartfelt interview written by Terry Shropshire, rolling out's editor-at-large.
Visit rollingout.com to read the interview in its entirety. Be sure to check out the amazing photo shoot and exclusive video footage with celebrity photographer DeWayne Rogers.