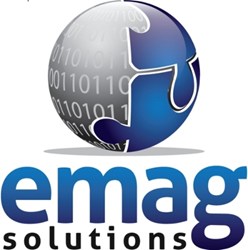 "It gives our company unique opportunities to build new business relationships as well as foster existing ones."
Atlanta, GA (PRWEB) August 05, 2013
eMag Solutions, LLC ("eMag Solutions"), a leading provider of tape restoration solutions for corporations, government and law firms, announces their renewed Women's Business Enterprise National Council (WBENC) certificate. The Women's Business Enterprise National Council was founded in 1997 and remains the largest third-party certifier of businesses owned by women in the US. With Patriarch Partners supporting the success of this thriving player in eDiscovery, the renewed WBENC certificate only adds to their many valuable accolades.
"We are very proud to regain this certification and we are looking forward to another year of working with WBENC businesses," says Randy Williams, ESI Consultant at eMag Solutions. "It gives our company unique opportunities to build new business relationships as well as foster existing ones."
eMag Solutions and the Women's Business Enterprise National Council (WBENC) alike support the advancement of certified women's business enterprises (WBEs) and organizations with active Supplier Diversity programs in place. With the WBENC core values set as "Certification, Opportunities, and Resources", this esteemed community retained a major player with eMag Solutions.
About eMag Solutions, LLC
eMag Solutions, LLC is an international Patriarch Partners company headquartered in Atlanta, GA with additional data service centers in New York City, and the United Kingdom. eMag Solutions is a leading provider of data recovery, data management and eDiscovery technology and expertise that help corporations, government agencies, law firms and legal services providers lower legal and operating costs while improving compliance and reducing risk. For nearly fifty years, eMag Solutions has provided its customers with an unmatched ability to process any data format from any source, on-site, in any jurisdiction around the globe. Learn more about our flexible solutions delivered via private or public cloud at http://www.emagsolutions.com
About Patriarch Partners, LLC
Patriarch Partners, LLC is a private equity and investment firm, headquartered in New York City. Founded by Lynn Tilton in 2000, Ms. Tilton serves as Chief Executive Officer and sole Principal of Patriarch Partners, LLC and its affiliated entities. Patriarch provides innovative financial solutions, strategic direction and operational expertise to companies undergoing periods of operational, industrial and economic change. Funds affiliated with Patriarch manage assets in excess of $8 billion and include majority and minority ownership positions in more than 75 companies. For more information, please visit: http://www.patriarchpartners.com.
Contact:
Jamie Raper
eMag Solutions, LLC
404.995.1664
jraper(at)emagsolutions(dot)com