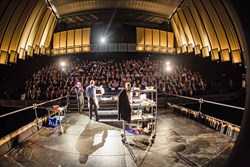 "Having two different chefs with different backgrounds creates a lively and fun atmosphere, opening up a new dimension for Serve & Protect." - Chef Tamie Cook, producer of the Tennessee Aquarium's sustainable seafood cooking shows
Chattanooga, TN (PRWEB) August 02, 2013
Two celebrity chefs are coming to Chattanooga September 19th for a seafood showdown. The "Decapod Duel" is the theme for the Tennessee Aquarium's 3rd Annual Serve & Protect events. Guests will enjoy Southern sizzle with a Creole twist during two live cooking shows to support the Aquarium's conservation mission.
Virginia Willis and Susan Spicer, two award-winning celebrity chefs, will share the spotlight on the IMAX stage while demonstrating the culinary versatility of shrimp and crawfish. "I love the idea of comparing and contrasting these two species," said chef Tamie Cook, who will produce this year's entertaining cooking shows. "And having two different chefs with different backgrounds creates a lively and fun atmosphere, opening up a new dimension for Serve & Protect."
Virginia Willis is a classically-trained, truly Southern chef who mixes fun into the approachable recipes she creates. She authored the highly acclaimed cookbooks, "Bon Appetit, Y'all" and "Basic to Brilliant, Y'all," is a contributing editor to Southern Living and has produced more than 1,000 TV episodes. Willis has worked for Martha Stewart, Bobby Flay and as Executive Producer for Epicurious on The Discovery Channel. She has also appeared on Food Network's "Chopped."
As a sustainable seafood advocate, Willis serves on the Monterey Bay Aquarium's Seafood Watch Blue Ribbon Task Force. Her popular food blog often focuses on sustainability and encourages wise seafood choices and supporting locally-sourced food.
Susan Spicer is a one-woman industry in New Orleans. Among her many awards, Spicer has been named one of Food and Wine's 10 Best New Chefs and has received the James Beard Award for Best Chef, Southeast Region, 1993. Her French Quarter restaurant Bayona has been featured in Bon Appetit and has been listed as one of the top 5 restaurants in the Zagat Guide for New Orleans. She has received the DiRoNa designation from Distinguished Restaurants of North America and the Robert Mondavi Culinary Award of Excellence. In May 2010, Spicer was inducted into the James Beard Foundation's Who's Who of Food and Beverage in America.
Spicer appeared on the Bravo television program Top Chef during the finale in 2009. Spicer is also credited with inspiring a character in the HBO series Treme.
The Aquarium's 3rd Annual Serve & Protect program, presented by First Tennessee, kicks off a weekend of sustainable seafood events in Chattanooga.
Serve & Protect Events - Thursday, September 19th
Serve & Protect midday affair begins at 11 am. Attendees will join chefs from Whole Foods Market for cooking demonstrations and tastings in the IMAX Great Hall. Gourmet boxed lunches will be provided for guests to enjoy in the theater while chefs Spicer and Willis get cooking on stage. A dessert reception with the chefs will follow the one-hour show. Individual tickets for this event are $75 dollars and are available online.
The Aquarium's 3rd Annual Serve & Protect evening event begins at 5:30 pm as guests gather in the IMAX Great Hall for cocktails and appetizers. Chefs Spicer and Willis will present a friendly skillet-to-skillet competition unlocking the full culinary potential of shrimp and crawfish. They might even invite an audience member or two onstage to participate. Then attendees will be served an elegant seafood dinner, prepared by chefs from some of Chattanooga's finest restaurants, within the Aquarium's galleries. A dessert reception will cap off the evening with an opportunity to meet Spicer and Willis. Individual tickets for the evening event are $200 each and are available online.
Downtown Dine Around - Friday, September 20th & Saturday, September 21st
Everyone is encouraged to try a new sustainable seafood menu item offered during the Chattanooga Downtown Dine Around. Diners will find special Serve & Protect menu items featuring sustainable seafood options prepared by some of the city's most talented chefs.
Serve & Protect Culinary Partners:

212 Market
Back Inn Cafe
Bluewater Grille
Broad Street Grille
Easy Bistro & Bar
Events with Taste Catering
Lee Towery Catering
Porter's Steakhouse
Public House
Rembrandt's
St. John's Restaurant
Sticky Fingers
Swiss Am Fine Catering
Whole Foods Market
Cast Iron Cookoff at the Chattanooga Market - Sunday, September 22nd
Five chefs will demonstrate their finesse at the Chattanooga Market's Cast Iron Cook-off. A mystery sustainable seafood product will be revealed to the contestants who then have one hour to shop the Market for ingredients. It's standing room only as the chefs then draw upon all of their skills to develop delectable seafood dishes to impress a panel of judges. Market attendees enjoy this friendly competition and walk away learning a bit about making wise seasfood choices and professional cooking tricks of the trade.
Famed Foodist Alton Brown helped establish, and continues to support, the Tennessee Aquarium's Serve & Protect program. He explains how purchasing seafood caught or raised in the U.S. benefits our ocean in this short video.
###
The Tennessee Aquarium inspires wonder, appreciation and protection of water and all life that it sustains. Admission is $24.95 per adult and $14.95 per child, ages 3-12. Each ticket purchased helps support Aquarium conservation programs. The IMAX® 3D Theater is next door to the Aquarium. Ticket prices are $9.95 per adult and $8.50 per child. Aquarium/IMAX combo tickets are $30.95 for adults and $20.95 for children. Excursions aboard the new River Gorge Explorer depart daily into "Tennessee's Grand Canyon." Cruise tickets are $29.00 per adult and $21.50 per child (3-12). Advance tickets may be purchased online at http://www.tnaqua.org or by phone at 1-800-262-0695. The Aquarium, located on the banks of the Tennessee River in Chattanooga, is a non-profit organization. Open every day except Thanksgiving and Christmas, the Aquarium and IMAX are accessible to people with disabilities.