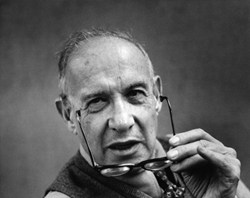 The final judges also have their work cut out for them in selecting a single winner. This is a wonderful group of finalists.
Claremont, Calif. (PRWEB) August 02, 2013
The Drucker Institute at Claremont Graduate University has named the 10 finalists for the 2013 Peter F. Drucker Award for Nonprofit Innovation.
The winner will be announced in September. The prize is $100,000, thanks to a generous grant from The Coca-Cola Foundation.
The finalists are:

92Y, which created #GivingTuesday to catalyze philanthropic giving following Black Friday and Cyber Monday
Boston Medical Center, which has reengineered the discharge process to ease the transition from hospital to home and drastically reduce hospital readmission after discharge
Fresh Artists, which is leveraging the work of young student artists to fund local arts education
Horizons for the Blind, which has developed a free online service to improve the quality of and accessibility to consumer information for people who are visually impaired
New York Legal Assistance Group, which provides free civil legal service to low-income New Yorkers through a mobile legal services office and courtroom
SightLife, which works with partners across 29 countries to establish eye banks and support more than 16,000 corneal transplant surgeries each year
Sustainable Nutrition International, which is addressing food insecurity and chronic malnutrition in the Americans with proprietary technology and bioactive nutritional formulations
U.S. Green Building Council, which is transforming the way buildings and communities are designed, built and operated through LEED—its voluntary and market-based green building certification program
VisionQuest 20/20, which developed a computerized system to dramatically improve the accuracy, availability and cost of vision screening for children
Water.org, which has a new approach to establishing sustainable access to water and sanitation for people at the bottom of the economic pyramid
In all, the Drucker Institute received a record 864 applications this year from nonprofits in 49 states and the District of Columbia. The annual budgets for these organizations ranged from less than $250,000 to well more than $10 million.
"Every year, it seems, the pool of applicants for the Drucker Award gets stronger," said Rick Wartzman, the Drucker Institute's executive director. "Getting down to just 10 was really tough, and I have no doubt that the final judges also have their work cut out for them in selecting a single winner. This is a wonderful group of finalists."
Administered annually since 1991, the Drucker Award is granted to a social-sector organization that demonstrates Peter Drucker's definition of innovation—change that creates a new dimension of performance. In addition, the judges look for programs that are highly effective and that have made a difference in the lives of the people they serve.
The final judges include Wartzman; Sumita Dutta, managing director at Golden Seeds; Geneva Johnson, former president and CEO of Family Service America and secretary of the Frances Hesselbein Leadership Institute; Mario Morino, co-founder and chairman of Venture Philanthropy Partners and chairman of Morino Institute; Sally Osberg, president and CEO of Skoll Foundation; C. William Pollard, chairman emeritus of ServiceMaster Co. and a member of the Drucker Institute's Board of Advisors; and Steve Yankovich, vice president of innovation and new ventures at eBay.
Hailed by Businessweek magazine as "the man who invented management," Peter Drucker not only consulted for major corporations; he also advised the Girl Scouts of the USA, the Red Cross, the Salvation Army and countless other social-sector organizations. He called the nonprofit "America's most distinctive institution".
About the Drucker Institute
The Drucker Institute at Claremont Graduate University is a social enterprise whose purpose is to strengthen society by making people more effective, organizations more responsible and work more joyful. It does this by turning Peter Drucker's ideas and ideals into tools that are both practical and inspiring. Major corporate CEOs, social sector leaders, government officials, middle managers and even high school students all use these tools to be better at what they do. For more information, please visit: http://www.druckerinstitute.com.
About Claremont Graduate University
Founded in 1925, Claremont Graduate University is one of the top graduate schools in the United States. Our five academic schools conduct leading-edge research and award masters and doctoral degrees in 22 disciplines. Because the world's problems are not simple or easily defined, diverse faculty and students research and study across the traditional discipline boundaries to create new and practical solutions for the major problems plaguing our world. A Southern California-based graduate school devoted entirely to graduate research and study, CGU boasts a low student-to-faculty ratio.