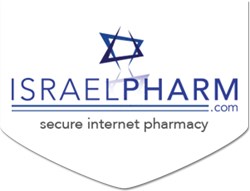 Motilium and Androgel Now Available from Web's Most Reliable Online Pharmacy Israelpharm
Bet Shemesh, Israel (PRWEB) August 02, 2013
Israelpharm, the number one, secure online pharmacy in Israel, has issued a warning to United States consumers to be aware of fraudulent rogue Internet prescription drug suppliers who have been cited in a recent report by the U.S. Government Office of Accountability. American consumers must make certain to only make online prescription purchases from reliable sources such as https://www.Israelpharm.com, which is fully licensed to provide the highest quality brand name and generic prescription medications, including MOTILIUM and ANDROGEL, at drastically reduced prices with complete confidence for buyers.
The GOA's July, 8, 2013 report confirmed that one in four Americans purchase prescription drugs online, but stressed that "…many Internet pharmacies are fraudulent enterprises that offer prescription drugs without a prescription and are not appropriately licensed. These rogue Internet pharmacies may sell drugs that are expired, improperly labeled, or are counterfeits of other drugs."
The GOA report stressed that consumers should make certain that online prescription suppliers follow legal and safe procedures. Israelpharm is an exemplar model for such diligence that provides complete confidence in its customers. It is a fully licensed Israeli drug supplier located near Jerusalem, ships all orders to U.S. customers via express mail with most delivery times less than 10 days.
One of the certain signs that an Internet pharmacy is not in compliance and should be considered as a rogue operator is if it does not require a legitimate, written prescription from a licensed American doctor. Israelpharm refuses to fill any prescription that does not meet these criteria. All orders must be accompanied by a U.S. doctor's prescription, unlike many online pharmacies that claim to have "doctors" on staff who write prescription orders online (without seeing the patient or being able to physically verify the legitimacy of the need for the medication) when the buyer answers a few superficial, often ambiguous questions when placing an order. Israeli law requires a valid, legitimate prescription with no changes and that has been written within 12 months of placing an order; no order will be filled without a prescription that meets these legal requirements.
Online prescription buyers are also required to complete a questionnaire providing medical history, an inventory of current medications being taken, and verification of address and phone number. Israelpharm cannot accept digital prescriptions or pharmacy transfer prescriptions under law.
Israelpharm's prices for online purchases are generally less than half than those charged for the same products sold through American pharmacies–sometimes up to 70 percent less–and the company's unmatched record for quality control makes it the ideal secure supplier for medications such as Advair, Androgel, Lipitor, Keppra, Januvia, Lexapro, Lyrica, Morilium, Nexium, Provigil, Plavix, Reclast and other high demand products. A full listing of the hundreds of medications offered can be viewed on-line through a comprehensive, easy-to-use drop down menu.
As a fully licensed and registered pharmacy, Israelpharm is able to sell prescriptions at prices far less than American suppliers due to the Israeli Ministry of Health's control over prices on medications sold in the country to keep medications affordable–unlike in the US, the only nation where drug manufacturers are allowed set their own prices for medications. These price controls enable Israelpharm to pass great savings on to its customers with no hidden charges.
American buyers can shop online with confidence they are receiving authentic medications from a fully qualified supplier. Unlike with most foreign pharmacies offering medications online, all of Israelpharm's products are fully licensed and registered. Many non-domestic online pharmacy companies, including many claiming to be operating out of Canada, do not produce pharmaceuticals that meet U.S. standards and cannot be purchased legally in some states. All drugs, cosmetics, and other products listed on Israelpharm's website are approved by the Israeli government's Ministry of Health, and often the products ordered will be the exact same product that would be received in the U.S. The Israeli Ministry of Health imposes the most stringent manufacturing standards for all pharmaceuticals sold in Israel.
Israelpharm accepts Visa, Master Card, or American Express and orders are delivered directly to the buyer's door by the EMS Postal Service through the Israeli Post Office. Online customers are provided with tracking numbers to trace their shipments.
Qualifying prescriptions must be faxed (toll free) to 1-866-544-8993 or emailed to perscriptions(at)Israelpharm(dot)com in their original form. U.S. regulations prevent Americans from importing more than a three-month supply of medications at a time, and Israelpharm.com complies with this regulation and encourages buyers to place orders for three-month supplies to save on shipping fees. All orders are shipped internationally for a flat $20 fee, regardless of their size or how many medications have been ordered.
Further information about Israelpharm's products and services is available by calling the company at 1-866-456-3768 or contacting the company online through its website at Israelpharm.com.