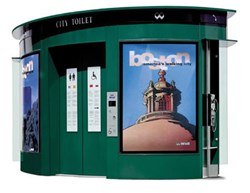 What happens during restroom emergencies?
(PRWEB) August 03, 2013
Babystations.com, a popular retailer of childcare products, offers its opinion on a question posed by WGBH News, a public radio station based in Boston, MA, regarding the sufficiency of public restrooms throughout the city. In the retailer's opinion, Boston may be not be suffering from the number of public restrooms, but rather the number of operational public restrooms.
Boston is visited by over ten million people per year. They come for a variety of reasons. Some may want to take in the city's rich history and culture, while others may just want to visit family and friends. Regardless of their motivations though, a large number of these visitors will probably agree that downtown Boston lacks clean and well-marked restrooms.
As the article on WGBH News reveals, most of the city's public restrooms are either poorly maintained or completely out of order. It goes on to suggest that, if all else fails, restroom users can search for other alternatives like the restrooms available in public libraries, hotels, convenience stores or restaurants.
But what happens during restroom emergencies? What if you don't have the time to walk around the block and search for publicly accessible alternatives?
This is exactly why Babystations.com believes that the city absolutely needs more public restrooms. Simply installing functional restrooms will already benefit regular individuals, but especially ones suffering from irritable bowel syndrome and bladder problems. However, there's much more that the city can do. If it chooses to install baby changing stations in these facilities, for example, the city can also offer a solution to the all-too-common diaper emergency. Babystations.com is willing to work with Boston (or any other government unit) absolutely free of charge to make this possible.
About the company: Babystations.com is managed by Ekom.ca. It is an online retailer with a long history of trusted service. They sell a wide array of products that include baby changing stations, child seating, and other childcare accessories. Despite being a product-based business, the company understands the value of providing quality customer service. They provide detailed product information, give out the best prices, do their best to ease purchasing difficulties, and respond to complaints, questions, and products in the timeliest manner possible.