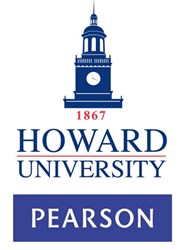 Washington (PRWEB) August 05, 2013
Today, Howard University announced "Howard University Online," part of a comprehensive initiative that will expand the flagship research University's array of blended/online courses and programs in partnership with Pearson.
Pearson, one of the world's leading providers of online services to higher education, has been engaged as the University's strategic partner in this effort. Howard will offer select online degree programs in the fall 2014-2015 academic year with the goal of creating up to 25 online programs over the next few years.
"This new initiative directly supports the University's strategic priority to enhance teaching, learning and research," said Provost and Chief Academic Officer Wayne A.I. Frederick, M.D., MBA. "It builds faculty capacity to enhance our instruction delivery to meet the needs of the 21st century learner as well as our reach beyond our Washington-based campus to the world through our new partnership with Pearson."
Howard University Online (HU-Online) enables the prestigious university to offer in-demand degree and certificate programs and expand the reach of Howard's faculty beyond the campus to students around the world.
"We are honored to be working with Howard University to expand the institution's online program offerings and reach both non-traditional and international students," said Don Kilburn, vice chairman of Pearson Higher Education. "To remain competitive in today's environment, institutions increasingly need to offer high-quality online degree programs to reach students who need flexibility. This HU-Online, partnership will do just that."
About Howard University
Founded in 1867, Howard University is a private, research university that is comprised of 13 schools and colleges. Students pursue studies in more than 120 areas leading to undergraduate, graduate and professional degrees. Since 1998, the University has produced two Rhodes Scholars, two Truman Scholars, a Marshall Scholar, 30 Fulbright Scholars and 11 Pickering Fellows. Howard also produces more on-campus African-American Ph.D. recipients than any other university in the United States. For more information on Howard University, call 202-238-2330, or visit the University's Web site at http://www.howard.edu.
About Pearson
Pearson (NYSE:PSO) is the world's leading learning company, providing educational materials and services and business information through the Financial Times Group. Pearson serves learners of all ages around the globe, employing 41,000 people in more than 70 countries. For more information, visit http://www.pearson.com.