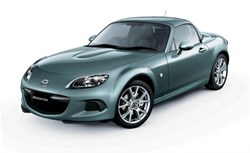 compact + affordable + uncomplicated = fun
Red Bank, NJ (PRWEB) August 08, 2013
Mazda is offering great deals on the Mazda MX-5 Miata. There are deals in leasing and financing, as well as Customer Cash offers; plus Customer Services Appreciation money.
Recently, the Miata was reviewed by the experts. They said it best: compact + affordable + uncomplicated = fun. That is exactly what the Miata offers. The Miata is a hoot to drive. Maneuverability is the Miata's strongest point; the rear-wheel-drive roadster is light and lively, with roller-skate-like agility.
Some of the highlights of the MX-5 Miata: the price. It is the lowest-priced convertible in its class. Features with power locks, cruise control, remote keyless entry and steering-wheel radio controls is another great highlight for its value. It's safety features include standard front airbags and seat-mounted side-impact airbags. The rear window is more sizable than some convertibles with the top up.
There's a lot to love about the Miata, and apparently a lot of people love it: It was named the best-selling sports car by Guinness World Records in 2011 after breaking 900,000 units in global sales.
Toys are supposed to be entertaining, and the Miata is a blast.
M. Schwartz & Sons, Inc. at 585 Shrewsbury Ave., Red Bank, NJ, also sells Hino trucks. Hino Trucks has announced the launch of HinoCare, a new preventive service care program for their 195 diesel model trucks that's free of charge to the customer.
This two-year or 60,000-mile maintenance program is available on all 2013-MY and 2014-MY 195 and 195 double-cab trucks delivered between July 1, 2013 and March 31, 2014.
Already backed by an industry leading five-year, 175,000-mile engine warranty and three years of roadside assistance coverage through HinoWatch, Hino's new service care program brings greater value and confidence while ensuring low cost of ownership, says the company.
During the first two years of ownership (or 60,000 miles), HinoCare covers all standard checks (steering, brake pad, battery terminal, gauges, warning lights, mirror, engine belt, air intake system) and replacements (engine oil, fuel filter, air filter, transmission fluid and differential oil).
You can find out more information by contacting our dealership. Visit us at http://www.schwartzmazda.com/.