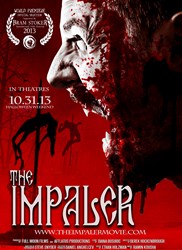 We want to show "The Impaler" in as many theaters as possible
Los Angeles , CA (PRWEB) August 07, 2013
Full moon Films is currently running a campaign on the popular crowd funding site Kick Starter to fund a $50,000 theatrical distribution of their feature film ''The Impaler.''
Pledging anywhere from $1 to $5000 gives the backers can receive a number of rewards, including signed posters, exclusive screenings, tickets to the LA premiere and even Producer credits.
''The Impaler'' has just been accepted to the Bram Stocker International Film Festival in England, to have a world premiere 1 week before Halloween. It's an adaptation of the real history of Vlad the Impaler, famous Romanian (Wallachian/Transylvanian) ruler, that became famous for impaling his Turkish enemies and building forests of spears and bodies. The film continues the legend, not so much along Bram Stoker's novel, but with an authentic flavor of the country and its true facts.
Full Moon Films and Afflatus Productions has announced the arrival of Derek Hockenbrough's "The Impaler." The film looks to retell the original story of Dracula through the notorious Romanian ruler's death and legacy. However, Vlad III seems to be appearing in more than the gore-ridden indie horror flick. Hockenbrough reassures horror fans that "The Impaler" is sure to keep you on your feet. "You won't find any sparkling Ken doll vampires here."
"We wanted to bring back the demon in vampire. That's what we loved as kids and what better human host for a demon than Vlad III?" Hockenbrough said of the movie, "This being an Indie film, we are able to get away with a lot more than the studios. Our goal was to make a truly evil Dracula movie that would please both the hardcore genre fans and the general person just looking for a good scare. Either way, it's going to surprise you."
Full Moon Films is a division of Flawless Production Inc. company located in Tarzana, CA and run by Daniel Angel. For information call 323-373-3404 or visit http://www.theimpalermovie.com, Facebook.com/theimpalermovie, Twitter @theimpaler2013. For ''The Impaler'' Kickstarter campaign, visit: http://www.kickstarter.com/projects/theimpalermovie/the-impaler-feature-film-theater-distribution .