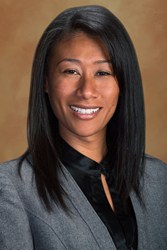 Las Vegas, Nevada (PRWEB) August 06, 2013
Patricia Lee, a Partner with Hutchison & Steffen, has become the first Nevada attorney to receive the American Bar Association's (ABA) national Pro Bono Publico Award for her demonstrated outstanding commitment to volunteer legal services for the poor and disadvantaged. Lee, one of three attorneys in the country to receive the award this year, will be honored at the Pro Bono Publico Awards Assembly Luncheon during the ABA Annual Meeting in San Francisco, on August 12, 2013.
Lee was nominated for the ABA award by the Legal Aid Center of Southern Nevada, where she forged a unique partnership in 2012 for Hutchison & Steffen to formally adopt an entire practice group (domestic violence), ensuring that all such cases would be handled completely and effectively. This marked the first time a law firm had ever adopted an entire Legal Aid practice group. Because Nevada has the highest rate of deaths in the country associated with domestic violence, historically, Legal Aid had been able to meet only about 80 percent of the legal needs of these victims.
"We couldn't be happier that the ABA recognized Patty for all that she has done for our clients in Southern Nevada," said Barbara Buckley, executive director of Legal Aid Center of Southern Nevada who nominated Patty for the ABA award. "Patty has been an inspiration to her firm and other lawyers in the community, and those who cannot afford legal assistance are directly benefiting from her good work."
Lee has a long history of pro bono service in her legal career. As the pro bono liaison for Hutchison & Steffen, Lee has been tasked with finding and pursuing volunteer opportunities for the attorneys in her firm. Lee personally works with Legal Aid as a member of the Legal Aid Advisory Council and attorney for the Children's Attorney Project. With the Children's Attorney Project, Lee represents abused and neglected children in Court. In addition, District Judge Elizabeth Gonzales appointed Lee as a member of the Court's Self-Help Center's Steering Committee, to analyze and make recommendations to improve services and funding for the Center so that parties who can't afford attorneys are able to obtain easily accessible information in an efficient and useful manner. She was also appointed Chair of the Nevada Crime Commission by Governor Gibbons, and reappointed by Governor Sandoval. The primary purpose of the Commission is to act as an advisory board to the Governor on law enforcement and crime related issues, with an eye towards maximizing the safety, prosperity, and public awareness of citizens.
"We are extremely proud of Patty," says Mark A. Hutchison, Founding Partner with Hutchison & Steffen. "She truly embraces 'community' and works hard to serve those who are victims and often have no voice within a complicated legal system. This award is well-deserved, and we applaud Patty for representing the highest values of our firm, our profession, and our community."
ABOUT AMERICAN BAR ASSOCIATION
With nearly 400,000 members, the American Bar Association is one of the largest voluntary professional membership organizations in the world. As the national voice of the legal profession, the ABA works to improve the administration of justice, promotes programs that assist lawyers and judges in their work, accredits law schools, provides continuing legal education, and works to build public understanding around the world of the importance of the rule of law. For more information about the American Bar Association, please visit americanbar.org.
ABOUT LEGAL AID CENTER OF SOUTHERN NEVADA
Established in 1958, Legal Aid Center is a private, nonprofit, 501(c)(3) organization that ensures equal access to justice through free legal advice and representation for those who cannot afford to hire an attorney. Service areas include domestic violence, child abuse, consumer fraud and social security. Free classes are offered in bankruptcy, divorce, paternity/custody, small claims, guardianship and foreclosure. Funding is provided through private donations, government grants and pro bono hours donated by local attorneys. Please visit lacsn.org for more information.
ABOUT HUTCHISON & STEFFEN, LLC
Hutchison & Steffen, a Martindale-Hubbell® AV-rated law firm, provides a wide variety of legal services, including business law and commercial litigation, trust and probate litigation, appellate litigation, insurance litigation, landlord/tenant law, healthcare professionals advocacy, professional liability defense, alternative dispute resolution, personal injury, bankruptcy law, creditor's rights, construction law, employment law, asset protection and business planning, real estate law, corporate and commercial law, family law, and administrative law. For more information about Hutchison & Steffen, please contact Teresa Tokumon-Phillips at 702.385.2500 or visit the Firm's Web site at hutchlegal.com.
ABOUT CIM MARKETING PARTNERS
CIM Marketing Partners provides services that include strategic consulting and planning, digital and social media, public relations and advertising, media buying and placement, corporate identity development and branding, brochure and collateral development, television and radio production and special events planning and management. For more information, call 702.944.2464 or visit the Web site at cimmp.com.
Contact: Amy Veloz/aveloz@cimmp.com
Phone: 702.944.2464 ext. 32