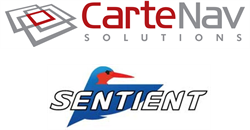 CarteNav select's Sentient's Kestrel MTI solution. The perfect enhancement for AIMS-HD.
Halifax, Canada/ Melbourne, Australia (PRWEB) August 06, 2013
CarteNav Solutions Inc. and Sentient today announced that both Kestrel Land Moving Target Indicator (MTI) and Kestrel Maritime automated target detection capabilities have been selected by CarteNav to enhance its AIMS-HD moving map display (MMD) and sensor management system (SMS), addressing urgent operational requirements in Latin America.
CarteNav Solutions Inc. is an international leader in situational awareness solutions for the maritime, land, and air environments. Providing sensor operators with real-time display, capture, and control, CarteNav's software solutions not only advance situational awareness, they also increase operational efficiency and effectiveness.
Kestrel is an automated target detection software solution that processes full motion video (FMV) from Electro-Optical/Infrared (EO/IR) sensors. The software automatically detects moving targets from an overland mission, or objects on the surface of the ocean from a maritime mission. It specializes in detecting objects that are difficult for the human operator to discern, either due to visible clutter or because the object is too distant, too small, or moving too slowly, such as a dismounted soldier or a person on the surface of the ocean.
"Situational awareness is of paramount importance to customers of both Sentient and CarteNav. Operators must have confidence in the tactical information presented to them. They use that data to interpret the local operating picture, and plan an appropriate response," said Lynn Mason, CEO of CarteNav Solutions Inc. "Because of Kestrel's valuable, real-time target detection capabilities, it is the perfect enhancement for AIMS-HD. By combining the two solutions, we have improved the inherent search and detect capabilities of even the world's most advanced EO/IR camera systems."
The integration of Kestrel enhances AIMS-HD functionally by highlighting moving targets in high-definition (HD) full motion video that is displayed alongside mission data on a digital moving map. Integrating critical MTI detections with the tactical operating picture provides mission commanders, both in the air and on the ground, with actionable intelligence as needed.
"Both our technical teams have put a lot of time and effort into this integration and we are all excited by the new capabilities it offers", stated Simon Olsen, director business development, strategy and partnerships at Sentient. "It is great to get such a positive response from customers. The first integrated AIMS-HD solution has already been deployed and we are working with numerous prospects that are interested in evaluating or deploying the integrated solution over the next six months."
About CarteNav Solutions Inc.
CarteNav Solutions Inc. is an international leader in situational awareness solutions for the maritime, land, and air environments. Founded in 2002, CarteNav offers operationally proven data integration and display technologies that dramatically improve performance of both sensor operators and tactical decision makers. CarteNav's global client base includes agencies from the national defence, public safety, and commercial sectors.
An ISO 9001:2008-registered company, CarteNav's technical expertise in sensor management, graphical user interfaces, map technology and systems integration is underscored by an unwavering commitment to customer service and quality. For more information, visit http://www.cartenav.com.
About Sentient
Sentient successfully develops and deploys computer vision technology for defence and civil projects. Since 1999 Sentient has been specialising in video analytics with a strong focus on the development of Artificial Intelligence and Computer Vision software.
Sentient is a member of the Defence Recognised Supplier Scheme and a trusted partner of the Australian Department of Defence. For more information, visit http://www.sentientvision.com.