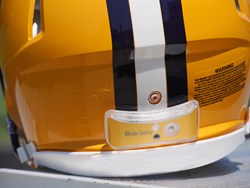 The breakthrough with this product is in its simplicity of use and low cost.
Bethesda, MD (PRWEB) August 07, 2013
Brain Sentry Impact Sensor™, an innovative helmet-mounted device that alerts when an athlete suffers a rapid, and potentially dangerous, acceleration of the head, is now available for purchase by youth sports associations, leagues, teams and parents. The sensor costs approximately $50 per unit with discounts for team/league purchases (order online at http://www.brainsentry.com).
Brain Sentry Impact Sensor's patent-pending sensor technology includes a micro-electromechanical, tri-axial accelerometer capable of measuring acceleration from any direction. Helmets provide varying levels of impact protection depending on the direction of the hit. Brain Sentry's internally developed, and proprietary, DAS™ technology (Directionally Adaptive Sensing) provides a consistent alert level – independent of hit direction or helmet type.
Greg Merril, co-founder and CEO of Brain Sentry, said, "Our team has designed an amazingly compact sensor system that accurately measures impact forces, is affordable, safe, and does not burden coaches. It's waterproof, there is nothing to maintain, the batteries last all year without charging, and you don't even have to remember to turn it on or off. The Brain Sentry Impact Sensor works all season--period."
"The Brain Sentry Impact Sensor is meeting a real need in minimizing the player's role in the reporting of concussions. The breakthrough with this product is in its simplicity of use and low cost. It's going to play a significant role in making football and other helmeted-sports safer," said Julian Bailes, MD, neurosurgeon, Medical Director of Pop Warner Football, and concussion advisor to the NCAA, NFLPA, AFL and former team physician for the NFL Pittsburgh Steelers.
Brain Sentry's initial focus is to provide sensors for the three most popular helmeted contact sports: football, hockey and lacrosse. Brain Sentry is also developing sensors for biking, alpine, and other helmeted activities.
Brain Sentry sensors are made in the U.S. and easily affix to the outside of the helmet (on the back). The product senses head impact and acceleration and works as follows:

When the helmet is not in use the sensor automatically enters a sleep mode. When it detects motion, it becomes active and a green LED light blinks.
With a significantly rapid acceleration of the head, a bright red LED blinks once every 3 seconds.
Once the sensor flashes a red light, the player is taken off the field and examined using the team's concussion assessment protocol.
If the player is not injured, the coach, athletic trainer, or designated adult (e.g. safety monitor) resets the sensor to turn off the blinking red light. The player's helmet should be checked for proper fit and the player may be allowed to return to the game.
The sensor keeps track of all impacts above the triggering threshold. If a second big impact is detected, the red light will flash quickly twice every 3 seconds. If a third impact is detected, the red light flashes three times, and so on.
The sensor detects approximately the top 2% of the hardest hits and thus does not significantly interfere with the flow of a game.
The level of acceleration needed to trigger the alert is based on over 10 years of research related to the correlation of head acceleration and clinical findings of concussion. While the sensor is not an indicator of injury, it is another set of eyes on the field that is designed to help determine which players should be assessed.
"The sideline diagnosis of concussion is challenging. If you don't know who to assess, it's impossible," said Merril. "Often, we depend on players to self-report symptoms -- and they don't. When the Brain Sentry Impact Sensor is triggered, the player gets assessed -- it's not a decision and there's no ego involved."
Unlike a structural injury that involves a ligament tear or a shoulder sprain, brain injuries are not always apparent or detectable, so athletes sometimes continue playing without knowing they are at risk for further debilitating outcomes. Among the 135 million participants (ages 6+) in team sports in the U.S., concussions are one of the most commonly reported injuries. According to research published in The American Journal of Sports Medicine, 39% of the high school and collegiate football players that suffered catastrophic head injuries were found to have been playing with concussion symptoms at the time of the catastrophic event. Under-reporting of concussion is a significant problem that sensors can help address.
About Brain Sentry:
Brain Sentry is privately held and headquartered in Bethesda, MD. The company was founded by a team of award-winning health-related product developers. Brain Sentry has a simple goal: to stop lives from being devastated by sports-related brain injuries. Learn more at http://www.brainsentry.com or visit our Facebook and LinkedIn pages.
James A. Boyle
Boyle Public Affairs
571-213-3979
Jim(at)boylepublicaffairs(dot)com