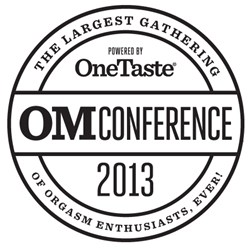 "I think of OMX a lot like the early days of meditation in America - where so many people were initiated into a new understanding that there was no going back." - Nicole Daedone, author of Slow Sex, Founder of OneTaste
San Francisco, CA (PRWEB) August 05, 2013
In her book 'Vagina: A Cultural History,' Naomi Wolf asks, "Could a profound connection between a woman's brain and her experience of her vagina affect her greater sense of creativity—even her consciousness?" She argues that this connection is in fact "fundamental to a woman's sense of self." Topics like this, and the positive impact of incorporating a regular sexuality practice such as Orgasmic Meditation into an every-day-life will be explored throughout the three-day Orgasmic Meditation Xperience (OMX), beginning August 9th in San Francisco.
Bryn Freedman, executive producer of the Emmy and PRISM Award-winning documentary series, "Intervention," on A&E is MC of the event. The line-up includes Dr. Anna Cabeca, an Emory University trained and board certified Gynecologist and Obstetrician. And, Dr. Sara Gottfried M.D., a Harvard-educated physician, speaker, and author of the book, The Hormone Cure: Reclaim Balance, Sleep, Sex Drive, and Vitality with The Gottfried Protocol (Scribner, 2013).
Marc David M.A., Founder of the Institute for the Psychology of Eating, and author of the best-selling books Nourishing Wisdom and The Slow Down Diet, will give a talk titled 'Woman, Food and Orgasm.' And, Tera Warner, of http://www.terawarner.com, who inspires a community of over a hundred thousand women around the world, will present on 'How to Bring OM to the Dinner plate.'
Pooja Lakshmin, M.D. will present neuroscience research from the Orgasm Lab at Rutgers University in New Jersey, where she is working with expert neuroscientist Barry Komisaruk PhD. They are using fMRI technology to map the sensory pathways of the female genitalia in the brain and nervous system as well as to establish the sequence of brain activity during orgasm and Orgasmic Meditation (OM).
On 'Free Access Friday,' August 9th, the Orgasmic Meditation Xperience (OMX) is free and open to the public, registration (at http://www.thetimefororgasm.us) is required for entry.
The One-Day Immersion Pass, Saturday, August 10th, includes morning yoga, workshops on 'the Art of Intimacy,' 'Leading from Desire,' 'the Codes of Play,' 'Relationship OS Upgrade,' 'Mastery: OM Based Sex,' and 'Introduction to The 10 Fold Path.' For those who have not yet been trained in the practice of Orgasmic Meditation, this is an opportunity to immerse yourself in the community and learn more.
The VIP Full Access Pass includes the above and Sunday, August 12th, for the ultimate experience of the conference. VIP Participants will get up close and personal with Nicole Daedone at her lecture and the live OM Demonstration, an invitation to the VIP party Saturday evening, 'the Industry of Orgasm lecture' with Joanna Van Vleck, 'How to build a local Orgasmic Community' presentation, 'Advanced Stroking' with Master Stroker Ken Blackman, 'the Hormone Cure' with Dr. Sara Gottfried, and 'the Secrets and Science of Sexual Desire' with Dr. Anna Cabeca. VIPs are exclusively invited to participate in group service event with Fill Up America, a San Francisco based charity organization.
More information about the Orgasmic Meditation Xperience (OMX) is available at http://www.thetimefororgasm.us