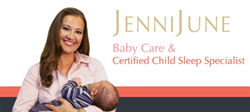 Los Angeles, CA (PRWEB) August 04, 2013
Celebrity Baby Care and Certified Child Sleep Specialist, JenniJune will appear on the August 6th episode of "Giuliana and Bill" to provide consultation and guidance for the power couple's infant baby Duke, said Jennifer Metter, the host of baby Care with JenniJune.
"As sleep deprived new parents, Giuliana and Bill were at a loss as to how to help baby Duke get the healthy, restorative sleep that is so essential to brain and motor development for infants of baby Duke's age," added Metter. "Sleep deprivation is a serious issue and can be a dangerous one, so my time with the family truly was critical to establishing positive pediatric sleep hygiene routines that help to put everyone back on track quickly and naturally."
In addition to her appearance this month on "Giuliana and Bill", JenniJune is the host of a new series of HD quality programming for the BabyLeague Network designed to provide busy parents with the most pertinent information they need to care for their infant.
Designed to guide, support, and entertain new and expecting parents through baby's first year. Each two- to four-minute episode condenses the latest, most pertinent information busy parents need in how to care for such things as a newborn's umbilical cord stump, benefits of providing skin-to-skin contact, teaching parents to understand what the "scoop on poop" can tell you about your child, and over 12 additional tutorials.
To watch JenniJune with Giuliana and Bill, tune in to (Style Network) August 6 at 8PM/7PM Central.
Viewers can tune in to Baby Care with Jenni June by logging on to the BabyLeague at http://www.babyleague.com or YouTube: BabyLeagueNetwork/BabyCareWithJenniJune. New episodes appear on the "Baby League Network" every week. Parents looking for a more in-depth consultation may visit JenniJune's website at http://www.jennijune.com.
About Jenni June:
Celebrity baby care and certified child sleep specialist Jenni June is mother of four teens, a certified pediatric sleep hygiene specialist and consultant, baby planner, lactation counselor, birth doula, greenproofer and pre/postnatal stress management coach. Jenni June is based in Los Angeles, but works with celebrity and everyday families throughout the country.