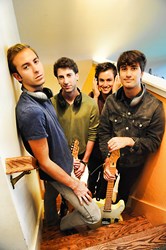 'Finish Ticket is an incredibly talented group of young men, who are genuinely dedicated to their fans,' says Marta Hall, President of Velodyne Acoustics. 'We couldn't be happier to support them in this endeavor.'
Morgan Hill, CA (PRWEB) August 08, 2013
Combining the magic of music with the power of high-performance sound, Velodyne Acoustics has announced their partnership with American indie pop band Finish Ticket in promoting their upcoming concert in the San Francisco Bay area. Finish Ticket will flaunt Velodyne's famed vFree ® Bluetooth wireless headphones as well the other vSeries headphones, as Velodyne supports and promotes the band's debut at the Great American Music Hall on August 16.
Recently increasing their sponsorships in music festivals and other local music events, Velodyne has taken an active initiative in promoting local talent. About the partnership, Marta Hall, President of Velodyne, enthusiastically advocates for the band. "They are an incredibly talented group of young men, who are genuinely dedicated to their fans," says Hall. "We couldn't be happier to support them in this endeavor."
Hailing from Alameda, the pop rock band consists of twin brothers, Brendan and Michael Hoye, along with Gabe Stein and Alex DiDonato. Gaining popular success from their songs "Doctor," "Numb," and "Catch You On My Way Out," Finish Ticket was inspired from such music artists as the Strokes and the Killers in forming their band in 2008. For more information on the band, please visit http://www.finishticket.com.
Velodyne's vFrees will also take the spotlight in a social media contest, hosted by the band on Facebook. Participants are asked to take a creative picture or video with their ticket to the GAMH show on the 16th and post to their favorite social media platform with the hashtag: #FTGAMH for consideration. The lucky winner, to be announced at the show, will take home Finish Ticket Merchandise, as well as a coveted pair of vFree headphones, autographed by the band. Fans are encouraged to visit Finish Ticket's page for updates on the show and band.
Velodyne wishes Finish Ticket the best of luck as they headline at the world-renowned Great American Music Hall.
About Velodyne:
Velodyne Acoustics, Inc., founded in 1983, is universally recognized as the leading manufacturer of high-performance, low distortion powered subwoofers at all price levels. Headquartered in Silicon Valley, California, the company's technically innovative audio products are available through a select group of authorized dealers, custom installers, and distributors worldwide. For more information visit http://www.velodyne.com.