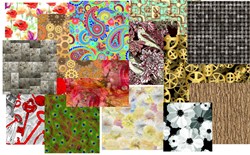 We are honored to feature so many fantastic decorators who are demonstrating our new products at such a noteworthy show!
Winchester, VA (PRWEB) August 06, 2013
August 9th, Icing Images will live stream demonstrations of their latest products from their booths at the ICES Convention at the Hyatt Regency Hotel in Lexington, KY on CakesWeBake.com. Their all-star line-up of demonstrators include cake artists Peggy Tucker, CMSA; Mike Terry, CMSA; Jay Qualls of TLC's Next Great Baker; Sara Myers, High Five Cakes; Teri Tarbox, Simply Cakelicious; Linda McClure, Deseret Designs and Sidney Galpern, Simi Cakes, who will teach viewers and show attendees how to work with Premium Icing Sheets™ using Isomalt, the new Spellbinder® Sweet Accents™ machine and other cake decorating tools.
Also demonstrating at Icing Images booths 425-427 are Edna De la Cruz, Design Me A Cake and Food Network Challenge winner; Melissa Payne, Sweets Couture Cake; and Joshua Simpson, Southern Twists.
The live streaming event will also feature show highlights and demonstrations by Roland Winbeckler, Cake Supplies Plus and TLC's Ultimate Cake Off winner, in airbrushing; Dawn Parrott, Food Network Challege, in stringwork and Chef Dominic Palazzolo, Marvelous Molds, in working with inlay molds.
Air times are set for Friday, August 9th from 1pm – 2:45pm EST, Saturday August 10th from 1pm – 3:30pm EST and Sunday, August 11th from 11:30am – 3:30pm EST. The recorded sessions will be available for viewing immediately after the live streaming concludes each day.
Vendors typically debut new products at this popular cake decorating event; Icing Images plans to unveil new metallic Premium Icing Sheets™, die cutters for their Sweet Accents machine and between 500 - 1000 new iDesign™ designer prints licensed for edible image printing, now available without a subscription and no longer requires edible printer ownership. Users can now access it online, select a design, customize it for use and submit an order which Icing Images will print and ship to the customer's doorstep.
"We are honored to feature so many fantastic decorators who are demonstrating our new products at such a noteworthy show! We will be updating our website this week as well with all the new products. We are most excited about the new Spellbinder Sweet Accent cake decorating machine and the new iDesign Pay Per Print service that allows decorators who do not have an edible printer to reap the benefits of the standard iDesign program." Debbie Coughlin, Icing Images owner.
Icing Images has been a leading distributor of edible image and edible paper art supplies for over a decade. Edible image supplies such as edible image printers, edible ink, icing sheets, and electronic and die cutters are used by cake and confection decorators throughout the world.