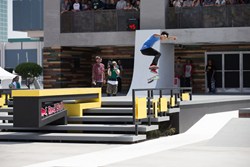 "Winning here in LA means a lot to mean since it's the last one in LA before it moves to Austin next year. I really came out here and accomplished what I wanted to, especially after missing Munich and not doing well in Portland." Nyjah Huston
Los Angeles, CA (PRWEB) August 04, 2013
After a short two-event lapse in podium appearances, Nyjah Huston has reclaimed the top spot by winning Street League Skateboarding (SLS) at X Games Los Angeles 2013. His teammate Chris Cole battled from behind to take 2nd, meaning Monster Energy skateboarders took the top two podium spots in LA.
After missing X Games Munich due to injury and then being eliminated early (while still recovering) at SLS Portland, Huston was hungry and driven coming into today's event in his hometown.
After qualifying second, Nyjah stepped up huge for the finals. In the Control Section, a Cab back nosebluntslide on the A-frame rail meant a 9.1, his first big score of the finals. From there he was on a roll and unstoppable in the Impact Section: a kickflip backlip on the out rail, a bigspin frontside boardslide on the out rail, a switch frontside blunt slide, and a kickflip frontside noseslide. The bevy of tricks meant a massive lead for him and an insurmountable lead for the competitors. Having sealed the win after his 5th try, his last go was for the fans where he pulled a kickflip backside tailslide to fakie on the rail for a 9.2.
Upon winning Gold, Nyjah said, "Winning here in LA means a lot to mean since it's the last one in LA before it moves to Austin next year. I really came out here and accomplished what I wanted to, especially after missing Munich and not doing well in Portland."
Meanwhile, Cole's performance in the Impact Section was incredible. Heading into that last part of the contest he was way back in 6th place, but Cole loves pressure and charged hard from there. A half Cab noseslide 270 out started him off, and then a switch frontside flip over the stairs moved him into 2nd place. Finally, a switch backside blunt slide on the out rail locked in the Silver medal for Cole, who took 2nd at SLS Portland weeks ago and took Gold at X Games Munich 2013.
Nyjah's recent dominance in street skateboarding competition is undeniable. This is his eighth X Games medal and fourth gold, and this marks his 4th SLS win of the year. For more than a year he's been the man to beat in competition, and he's won more prize money in skateboarding competition than anyone else in history.
Also representing well was Shane O'Neill, who finished just off the podium, but threw down in the finals. Highlights include a flip noseslide to manual on the manual pad in the Control Section and a switch bigspin heel flip manual 180 out in the Control Section. Later, in the Impact Section, he made a huge switch flip over the 12-foot stair set and switch 360 flip on the stairs, some of the highest scores of the contest.
Go to monsterenergy.com for more on Huston, Cole, O'Neill, and the entire Monster Energy crew competing at X Games Los Angeles 2013. There, fans will find behind-the-scenes photos and updates straight from Los Angeles.
For interviews or photo requests contact Kim Dresser (kim.dresser(at)indiepragency(dot)com) (949) 300-5546 or Paul Brewer (paul.brewer(at)indiepragency(dot)com) (760) 305-2018.
About Monster Beverage Corporation:
Based in Corona, California, Monster Beverage Corporation is the leading marketer and distributor of energy drinks and alternative beverages. Refusing to acknowledge the traditional, Monster Beverage Corporation supports the scene and sport. Whether motocross, off-road, NASCAR, BMX, surf, snowboard, ski, skateboard, or the rock and roll lifestyle, Monster is a brand that believes in authenticity and the core of what its sports, athletes and musicians represent. More than a drink, it's the way of life lived by athletes, sports, bands, believers and fans. See more about Monster Beverage Corporation including all of its drinks at http://www.monsterenergy.com.