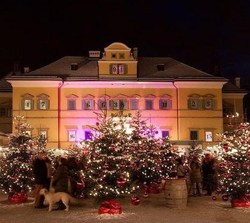 The Luxury Train Club has some great holdiay options, day trips or multi-day rail cruises, such as a pre-Christmas journey, a special New Year experience or a luxury get-away holiday.
Chippenham, Wiltshire (PRWEB) August 06, 2013
The Luxury Train Club has announced details of its wide range of luxury train journeys and rail holidays over the Christmas and New Year holidays.
Members of the Club (it's free to join; simply subscribe to the newsletter) benefit from discounts on all the featured journeys on the website, as well as a thank-you gift for each booking. Club offers are in addition to any available from the trains.
The Calendar of Luxury Train Journeys is a useful tool for planning holidays on luxury trains. It shows there are 10 luxury rail holidays underway on Christmas Day, and 7 luxury trains running overnight at the New Year.
Some journeys are day trips, such as on the Orient Express British Pullman or Northern Belle in the UK, or the Majestic Train de Luxe in Austria. The British Pullman is running Christmas luncheon specials from London, as well as going to English cities for Christmas carols, whilst the Northern Belle has a programme of Christmas lunches across England and a New Year Dinner.
The Majestic Train de Luxe has a journey to an Austrian Christmas market in a castle in the mountains, as well as a New Year spectacular – celebrate while circling Vienna, dancing on board to live music.
Rail holidays are operating all around the globe, such as the Northern Lights Voyage, that incorporates St. Petersburg, the Aurora Borealis, Christmas and New Year; the expected Solar Maximum will add intensity to the display of northern lights when the train is in the Murmansk region.
The Eastern & Oriental Express, from the Orient Express stable, has a New Year journey from Singapore to Bangkok. The 4-night special itinerary has a mix of formal dining - a sublime New Year's Dinner - with a beach party clad in sarongs and flip-flops, featuring live music, champagne and fireworks.
A gift idea for Christmas - the Club offers Ticket To Ride travel vouchers, available to members, which are valid for any luxury train journey listed on the Club website.
Simon Pielow, of the Luxury Train Club, says "The Luxury Train Club has some great options for the holidays whether as day trips or multi-day rail cruises - a pre-Christmas journey to introduce the festivities, a special New Year experience or a luxury get-away holiday."
ENDS
About the Luxury Train Club:
Contact: Simon Pielow, http://www.luxurytrainclub.com, infoATluxurytrainclub.com, +44 (0)1249 890 205
The Club website has details of offers from trains around the world, including Early Bird Booking Offers, some specifically for Members.
MEMBER BENEFITS
Discounts:

2.5% discount off the price of any journey on the Club website
Additional 2.5% for more than one booking, valid for new reservations made between 20 June – 30 September 2013;
Discounts are per suite and may be applied on final or full payment.
Club discounts are in addition to offers from the train companies.
Thank You Gift – the Club values every booking made by a member, sending a thank-you gift, which varies from time to time, to the leading passenger for every reservation. Current gifts include one of the following:

Gift from Osprey London, something from their range of small leather goods;
Gift from Noble Isles, a travel item from their range of bath and body products;
The Calendar of Luxury Train Journeys is a useful resource, unique on the web. It is linked from every train information page.