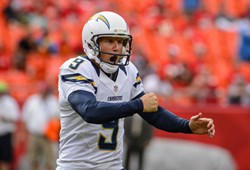 The reality is no one is safe, you just never know when cancer will knock on your door. This is why we must all do our part to raise money and awareness any chance we get. Nick Novak.
Phoenix, AZ (PRWEB) August 05, 2013
NFL kicker Nick Novak of the San Diego Chargers, has joined Kicking For The Dream's effort to fight ovarian cancer, according to NFL Kicker, and Kicking For The Dream founder, Billy Cundiff.
"Nick is a tremendous kicker who has always given back," says Cundiff. "His personal connection to ovarian cancer has shown him firsthand how awful this disease can be. I can only say we very excited to have Nick join our effort to fight ovarian cancer. Without question, he sets the type of example young kickers will want to follow."
Novak says he is glad to support Billy Cundiff's efforts with Kicking For The Dream as he has seen how cancer impacts individuals and families.
"This is what it's all about, I tip my hat to Cundiff and all the others involved," says Novak. "We have all been affected by cancer in some way or another. For me it was Annie Arth, she passed in 2005 after battling ovarian and breast cancer her entire adult life. A very good family friend and neighbor, I admired her so much because of her positive attitude and strength through it all."
Losing a friend to cancer impacted Novak deeply.
"I donate every chance I get because of Annie, and all the children I've met over the years at Rady's Children's Hospital in San Diego," says Novak. "The reality is no one is safe, you just never know when cancer will knock on your door. This is why we must all do our part to raise money and awareness any chance we get."
"In the past, I have donated to the American Cancer Society for every kick I make during a game," says Novak. "I'd usually donate $100-150 a kick, and both the team, and my agent Chad Wiestling, would match the total amount."
Go here for Nick Novak's' Kicking For The Dream page.
Novak, who in his professional career has played for the Redskins, Chief, Jets and others, was re-signed to a two-year contract with the San Diego Chargers in 2011 after Nate Kaeding suffered an ACL injury to his left knee on the opening kickoff against Minnesota. During the 2011 season, Novak made 27 of 34 field goals and set a Charger record making 11 kicks from 40 yards or longer. He established an NFL career-high with a 53-yard field goal. 2 of his 3 onside kicks were recovered (66%). He also made a career-high five field goals in a win at Denver.
He competed for the Chargers job during the 2012 preseason and had a strong showing before losing out to Kaeding. He was released on August 31. On September 29, 2012 the Chargers re-signed Novak after Kaeding suffered a groin injury. He filled in for three games, and became the permanent kicker after Kaeding was released in late October.
About Kicking for the Dream:
Billy Cundiff, who has been an NFL kicker for over 10 years for teams such as the Cowboys, Saints, Browns, Ravens Redskins and is currently kicking for the NY Jets, launched Kicking For The Dream in May of 2013, as an effort to support Colleen's Dream Foundation, a foundation which raises money to support research for the early detection of, and improved treatment for, ovarian cancer.
About Colleen's Dream Foundation:
Colleen's Dream Foundation started in 2012 and supports research for early detection and improved treatment for ovarian cancer.
The story of Colleen's Dream started in 2007 when Billy Cundiff's mother-in-law, Colleen Drury, was diagnosed with late-stage ovarian cancer. It was only then that Colleen and her family realized a new world that was filled with invasive surgery, harsh chemotherapy, and lots of uncertainty.
Ovarian cancer is often referred to as "the silent killer" because many women do not discover their disease until it is in the late stages, which leads to many women succumbing to the disease within a short period of time. Unlike cervical or breast cancer, ovarian cancer does not have a standardized early detection procedure. When it comes to women's health, ovarian cancer proves to be one of the deadliest diseases.
Colleen's Dream Foundation believes it is important to raise money for research that will lead to reliable early detection testing and improved treatment for ovarian cancer. Because so little is known about ovarian cancer in proportion to other women's health issues, we have an incredible opportunity for research and education.
Colleen's Dream is working with some of the top research hospitals and universities that are researching ovarian cancer. By offering seed funding to young investigators, the Foundation funds cutting-edge research by some of the brightest, young minds in the world.
Colleen's Dream Foundation is a qualified 501 (c)(3) tax exempt non-profit organization based in Phoenix, Arizona.