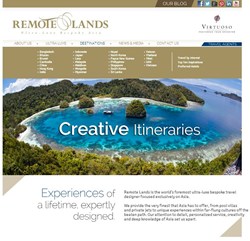 remotelands.com is an example of how a niche operator can really stand out.
New York, NY. (PRWEB) August 05, 2013
Remote Lands, the world's foremost ultra-luxe Asia travel designer, has just launched its brand new website to instant travel industry acclaim.
The new site overhauls the company's previous website, giving it a completely new, stylish look, greater social media connectivity, and most importantly, massively expanded content on all the company's 26 Asian travel destinations, as well as dedicated sections for private jets, helicopters, special interest travel, and a comprehensive selection of the company's preferred hotels & resorts from across the region.
Jay Tindall, Remote Lands' co-founder, told us: "The new site is the fruit of months of research and hard work, and we believe that, with its compelling content and stunning images, it will be both a great resource for Asia travel information and a source of inspiration for luxury travellers."
Social media is also an important part of the new site. Remote Lands have integrated their Pinterest and YouTube accounts to provide high-quality images and videos; their busy Facebook and Twitter feeds appear live on the site; and there is also a new blog, which features fascinating and entertaining first-hand accounts of the Remote Lands team's travels throughout Asia as well as features on the region's luxury travel market.
The travel industry has been quick to recognize the quality of the new site, with industry news site TravelMole awarding the company Best Tour Operator Website at its annual Travel Innovation Awards ceremony, which took place in Singapore recently.
TravelMole's head judge Clement Wong said: "remotelands.com is an example of how a niche operator can really stand out by not just trying hard to sell, but also hearing from its customers through their testimonials, agents, blogs and social media network engagement."
To experience the new website and find out why it is already so highly acclaimed, visit http://www.remotelands.com.
Remote Lands on Facebook
Remote Lands on Twitter
Remote Lands on Pinterest
Remote Lands on LinkedIn
About Remote Lands, Inc.
Remote Lands, Inc. creates highly personalized, ultra-luxe holidays in Asia, optionally by private jet or yacht. Based in New York and Bangkok, they specialize in extraordinary experiences that are difficult to arrange and require privileged access to important people and exclusive events, drawing upon their relationships with remarkable people around Asia. They distinguish themselves with their unparalleled service, creative itineraries and extreme attention to detail.
Remote Lands has been featured in The New York Times, The Wall Street Journal, Departures, Travel + Leisure, Condé Nast Traveler, Town & Country, the BBC, Fox Business News, Financial Times, National Geographic Traveler, W, Newsweek, Forbes, BusinessWeek and more.