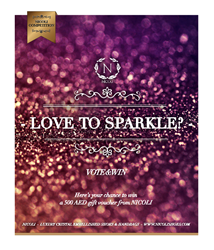 Become a part of the luxurious crystal embellished NICOLI family. Win a 500AED / $150USD NICOLI Gift Card with NICOLI's Love to Sparkle? Facebook Competition
(PRWEB) August 07, 2013
This August, NICOLI is all set to tempt its customers' toes into something fashionably fabulous with their superb Love to Sparkle? competition on Facebook. The competition is open to shoe and handbag aficionados worldwide and anyone can enter the competition by simply liking the NICOLI Facebook page - http://www.facebook.com/nicolishoes, clicking on the Love to Sparkle? tab and then selecting their favorite NICOLI products. It's that simple!
Renowned worldwide for its fashion authority, Italian craftsmanship, Arabian elegance and unmatched quality; few fashion houses can boast as much mystique as NICOLI. And now to celebrate and strengthen the bond with their valued clientele, NICOLI is offering three lucky entrants for the month of August the chance to win a 500AED / 150 USD NICOLI Gift Card to shop online at http://www.nicolishoes.com or within their NICOLI Boutiques throughout the GCC.
To enter the "Love to Sparkle?" competition is extremely simple. Users simply Like the NICOLI Facebook page, click the enter competition button, then 'LOVE' their favorite NICOLI shoe or handbag - it's that easy. The more times a person loves their favorite product and shares the Love to Sparkle? competition the more chances they'll have to win! All winners are notified via email and are announced on NICOLI's Facebook page during the first week of the following month.
The glamorous world of NICOLI is not just exclusive, it is elegant, unique and highly sought after too. Created as the perfect accessory to life's most beautiful and memorable moments, Hollywood glamour and Italian styling is behind, and can be seen in everything NICOLI does; from the exquisite hand crafted evening handbags, purses and clutches to the glamorous Swarovski diamanté embellished shoes.
Steeped in glamor and famed for fashionable yet timeless products, NICOLI continues to explore new grounds to reach its clientele even more conveniently. With the recent opening of new flagship boutiques in Al-Ain Mall, Al Ain, the Royal Plaza Mall, Doha, Abu Dhabi Mall, Abu Dhabi and the recent launched their online ecommerce boutique -http://www.nicolishoes.com NICOLI is most certainly an up and coming Fashion House to watch out for. Whether it's their stunning boutiques, online flagship boutique or Facebook giveaways / competitions, NICOLI has always attracted a unique and sohisticated clientele by offering them a complete NICOLI lifestyle.