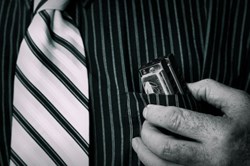 Transform any common, two-ounce, ten-hole, diatonic harmonica into a versatile virtuoso.
Jackson, MI (PRWEB) August 08, 2013
Bill Price reveals his new method for playing the diatonic harmonica, whereby anyone can convert their ordinary ten-hole diatonic harmonicas into lead instruments. "Coupling is a patented method; guaranteed to expand the harmonica's range and over-all capability." The major key diatonic coupling formula for this method is disclosed at: http://harmonicareinvented.com/. You'll enjoy samples from Bill's unique ten-song CD, "Taking the Lead". This CD displays dynamic possibilities available when pairing/coupling two diatonic harmonicas together. The result is truly astonishing! The formula is free for visiting harmonicareinvented.com. The CD is only $8, plus it can be used as a tutorial for learning the Coupling Method. Coupling will revolutionize the world's smallest reed instrument. The proof is all in the music.
Now, you can take the lead. With this simple invention, Bill has converted the ordinary diatonic harmonica into a formidable band-leading instrument. His method will transform any common, two-ounce, ten-hole, diatonic harmonica into a versatile virtuoso, without modifications. Anyone can up-grade their diatonic harmonicas instantly into lead instruments by simply following the "Coupling Method". There's no need for buying expensive and or complicated diatonic hybrids, which still fall short in performance. Just couple your diatonic harmonicas and enable the remarkable expansion in range and new harmony capability.
Although the diatonic harmonica is the world's best selling instrument, its reputation is substantially below saxophones, clarinets, or trumpets. Why? The diatonic harmonica is designed with truncated scales. Of its three octaves, only the middle one has a complete diatonic scale. The world's best selling and likely the most individually owned instrument, in truth, has a very limited range.
Enter… tihe Coupling Method. A single pair of coupled diatonics enables a variety of three chord progressions, something horns are incapable of. The simple little diatonic harmonica, by virtue of this new method, goes to a whole new level; in many instances outperforming the chromatic harmonica, trumpet, clarinet, saxophone, flute and the rest of the reed ensembles. Coupled diatonics carve out a powerful niche, well beyond their traditional presence in the blues, country, etc.
By coupling, you are essentially creating a new, muscle-bound diatonic harmonica without any valves, slid-bars, magnets etc. Acoustically, nothing beats the old diatonic harmonica; after converting/coupling them they're still true diatonic harmonicas. Visit harmonicareinvented.com to see this invention in action. Hear the previously impossible diatonic rendition of "Give Me Some Lovin" by Spencer Davis. In that song the coupled diatonic delivers the Hammond B3 organ chords, the melody/vocal line and coupling magic in a three chord progression closes it out. In addition, you'll receive instructions on how to couple up.