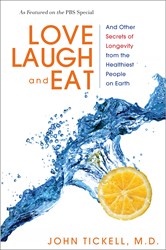 PBS host, weight-loss expert, and renowned authority on longevity shares the secrets to a long, healthy, life.
San Francisco, CA (PRWEB) August 06, 2013
What do those living well past 100 know that the rest of us don't? John Tickell, M.D. has spent more than 25 years traveling the world to uncover the health secrets of the longest living people on the planet. Researching the cultures, habits, foods, and traditions in more than 100 countries, Dr. Tickell reveals in his book and PBS Special, LOVE, LAUGH, AND EAT: And Other Secrets of Longevity from the Healthiest People on Earth (HarperOne; Hardcover; August 2013) the compelling reasons why some people arrive in their 60s, 70s, 80s, and 90s younger in body and mind, slimmer, happier, and healthier than many 40-year-olds.
Documented in scientific studies, based on his first-hand observations, and boiled down into a practical, doable everyday program, Dr. Tickell has created an easy-to-follow guide to changing and extending one's life. With characteristic wit and vast medical expertise, Dr. Tickell lays out his proven Activity, Coping and Eating (ACE) program which simultaneously works out body, brain, and mouth--the three keys to successful weight loss and health. Incorporating physical activity and stress-management techniques along with his revolutionary Four Basic Rules of Nutrition, LOVE, LAUGH, AND EAT delivers what so many of us seek, yet find so elusive. Going beyond stress reduction, diet and exercise, Dr. Tickell serves up a 7-day detoxification plan and a series of delicious, satisfying meal plans, and his snacks that help fight hunger, morning, noon, and night.
Through Dr. Tickell's LOVE, LAUGH, AND EAT program, people of all ages seeking health and happiness will discover:

Why the Okinawans have the greatest number of centenarians per capita in the world, and very low incidents of heart disease, strokes, breast and prostate cancer.
Longevity-promoting super foods from around the world.
An eating plan that works in the real world.
Eight fail-safe snacks to kill hunger.
A 7-day Love, Laugh, and Eat cleanse.
And finally, how to love, laugh, and eat to a healthy 100.
Fascinating and enlightening, Dr. Tickell reveals how easy and enjoyable it is to live a long and healthy life.
About the author:
John Tickell, M.D. is a medical doctor who has spent the last 25 years researching the health, well-being, and longevity patterns of people around the world. A former professional Australian football player, Dr. Tickell is a successful businessmen and doctor who travels the globe speaking about longevity and life skills. A well-known medical expert in Australia, Dr. John Tickell is featured in a national PBS special on the topic of longevity airing in August 2013. More at http://www.lovelaughandeat.com/.
LOVE, LAUGH, AND EAT:
And Other Secrets of Longevity from the Healthiest People on Earth
by John Tickell, M.D.
Published by HarperOne, an imprint of HarperCollins Publishers
August 6, 2013; $26.99 Hardcover
ISBN: 9780062286222
Also Available as an eBook