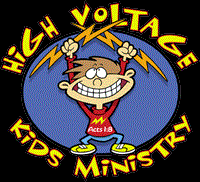 Over 5000 churches have used their materials, and they are looking to expand.
North Little Rock, Arkansas (PRWEB) August 06, 2013
In the next few months, High Voltage Kids Ministry Resources will celebrate their tenth anniversary of providing Children's Ministry leaders with high energy God-centered curriculum. Over 5000 churches have used their materials, and they are looking to expand.
One of the things their customers appreciate is the fact that everything High Voltage produces has already been tested in their own ministry and has proven to be 100% effective. Well, everything is about to get even better.
On September 1st, they are launching a brand new line of curriculum called High Voltage Power Packs! Each of these Curriculum Packs contains much of the material people have come to appreciate in their curriculum, but now everything has taken a quantum leap forward.
They upgraded all of their camera and editing equipment, so the videos are even better. Their new graphics and illustrations are stunning. The Leader's Lesson Manual has a newly designed layout. Everything just looks better and flows better than ever before.
The biggest addition to this new line of curriculum are the Small Group Experiences. Each small group experience includes up to 25-30 minutes worth of material – hands-on, activity-based, and highly interactive. It is the perfect way to enhance the Bible Lesson and really help children connect with the lesson of the day.
In addition, they are now including Quicktime Movie files on the Data Disc. Now, those of you who want higher resolution videos that are Mac-friendly – got 'em. Don't worry, those who are PC users – they still include the Mpeg video files as well.
Even with all the upgrades and additional materials, the High Voltage Power Packs are going to sell for under $100. That's right $99 – for all of that!
The new High Voltage Power Packs officially launch on September 1st. The first series, "HELP!" is already available for pre-order on their website. This series is all about teaching your kids to call on God in times of trouble. It features Bible Stories about King David, Jairus' daughter, Apostle Paul, Mary & Martha, and Solomon. Kids will learn how to call on God for "HELP!" when they need healing, peace, joy, wisdom, and help with loneliness.