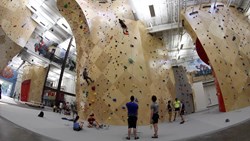 HACKFit is about living an active lifestyle, and building technologies which contribute to a more active world.
Boston, MA (PRWEB) August 19, 2013
From the advent of the television to the personal computer, technology has been utilized to make our lives easier. However, technological advance has also contributed to an increase in a sedentary lifestyle. This is exacerbated in many startup companies, as entrepreneurs often work 60 to 80 hours per week in-front of a computer monitor. What could be more fitting than to utilize technology to reverse this behavior? That's the intent of HACKfit, a Boston startup company, who has joined forces with TrekDesk Treadmill Desk and other health related companies, to teach entrepreneurs a balance of work, activity, and play.
HACKFit is an event production company, which organizes startup competitions that unite entrepreneurs passionate about physical health and exercise to launch new startup ventures in the fitness technology space.
HACKFit participants, also known as HACKFitters, compete to develop fitness-oriented websites, devices, or apps with opportunities for prizes, accolades, and investment exposure. But HACKFit doesn't stop there. In addition to building businesses, HACKFitters partake in group exercise sessions and activity challenges that include rock climbing, yoga, CrossFit, and martial arts.
"I founded HACKFit because I'm a nerd and an athlete," Mendelson says. "HACKFit is about living an active lifestyle, and building technologies which contribute to a more active world. Traditional startup competitions I've competed in glorify extremely unhealthy behaviors, and this just isn't sustainable. The best teammates I've connected with were often ones that I could go running with. Therefore I set out to create an active, healthy startup event and methodology since none currently exist."
Over the course of each 48 hour HACKFit event, entrepreneurs pitch ideas, form teams, refine their business plans, construct prototypes, and demonstrate final concepts to investors, executives, and media. "We have experts mentors including serial entrepreneurs, angel investors, CEOs, and thought leaders in both the tech and fitness industries," Mendelson says. "If you are looking for great connections and exposure, this is where to find it."
HACKFit's first event, held in Boston on September 20th, will be hosted at the recently opened Brooklyn Boulders Somerville (BKBS) climbing gym. The 38,000 sq ft climbing facility is augmented by art, culture, music, and entrepreneurship. "Our partnership with BKBS was a no brainer. Our missions are identical, to cross pollinate the high-tech, creative, and active communities to transform the way entrepreneurs connect, collaborate, and innovate," Mendelson says. "HACKFit events are the epitome of an active work environment."
HACKFit has also partnered with TrekDesk Treadmill Desk to introduce participants to the concept of walking while working. Designed to fit any existing treadmill, TrekDesk treadmill desk is an affordable, full sized, height adjustable workstation that allows individuals the opportunity to gain the necessary amount of daily exercise to lose weight, maintain health, reduce stress, prevent disease, strengthen muscles, boost mood and productivity, without requiring additional time during the day or extra motivation.
Other notable companies such as Microsoft, Withings, CoachUp, and General Assembly will support startup teams with the resources they need to be successful. Mendelson notes, "We believe that activity and exercise inspire innovation. Our long-term goal is to build a system for employees everywhere to be more innovative, creative, and inspired through regular exercise and physical health. HACKFit events help participants find a healthy balance of work, play, and activity, which is critical for success both in life and business."
Interested in attending HACKFit Boston? Find more information and register at http://www.hack-fit.com or contact Justin Mendelson, Founder and CEO: Justin(at)hack-fit(dot)com.