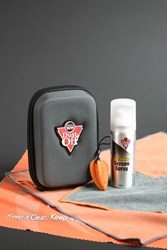 Branchburg, NJ (PRWEB) August 06, 2013
Dust-Off®, the leading brand of consumer electronic cleaning products, has all the cleaning essentials for back-to-school covered this year. With a wide array of cleaning products, Dust-Off ensures that students' keyboards, tablets, phones and computer screens are dirt and dust free for the new school year.
Whether it is cleaning out a keyboard before writing a term paper, wiping down a tablet screen before going to class, or using antibacterial wipes before hitting the dining hall, Dust-Off is helping to make the back-to-school season less stressful with their products. It is important to keep keyboards, tablets, phones, and computer screens clean not only during back-to-school season, but all through out the year to keep the school year as stress and dirty free as possible.

Dust-Off's Ultimate Screen Care Kit is perfect for the student who wants to tidy up all of their screens before studying for a big test or writing a paper. The kit includes a bottle of screen spray, a screen shammy, a plasma screen cloth, a CD/DVD cloth and a Sweep mobile cleaning pad, all in one compact and handy carrying case. The Ultimate Screen Care Kit is perfect for removing smudges or finger prints off any tablet, computer or phone screen.
A jammed keyboard the night before a big project is due will never be an issue with Dust-Off's Premium Keyboard Cleaning Kit. The cleaning kit is ideal for cleaning out the dirt, dust and gunk that is stuck under and around the keys of the keyboard. The kit contains a duster, four cleaning swabs, a microfiber cloth, and a cleaning spray to ensure that no dust or dirt is left behind when cleaning the keyboard. The kit is perfect for all types of keyboards, and the products are 100% ozone safe.
Devices like keyboards, phones and a computer mouse are prime surfaces for germ transfers. Dust-Off has a wide variety of Wet Wipes that are the secret to keeping work spaces clean and germ-free. The pre-moistened wipes are ideal for wiping down keyboards, phones, whiteboards, and even hands! The wipes come in larger tubs as well as packaged individually for the student on-the-go.
All of Dust-Off's screen cleaning products are currently available and can be purchased at http://www.dust-off.com/products.
About Dust-Off®
Manufactured by Falcon Safety Products Inc., a world leader in compressed-gas technology, Dust-Off offers the most comprehensive line of dust removing and preventive maintenance products for consumer electronics and home or office equipment. Dust-Off compressed-gas dusters are one of the most versatile cleaning accessories available to consumers today and have long been a staple for the care and maintenance of computers and other electronic equipment. For additional information, please visit http://www.Dust-Off.com or follow on Facebook at http://www.Facebook.com/KeepitDustOff.