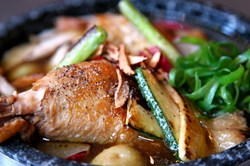 Barn Joo's Coq Au Sool derives its name from its Korean and French inspirations as the Korean word "Sool" (meaning alcohol) replaces vin (the French word for wine).
New York, NY (PRWEB) August 06, 2013
Coq Au Sool, a chicken stew with European and Korean influences, will be served at Barn Joo restaurant from August 12th to August 15,2013 as a chef's special. Coq Au Sool combines a nutritiously rejuvenating and soothing broth with a tender and intricately seasoned chicken.
The selected dates of the Coq Au Sool's availability are anticipated to be the hottest and most humid days of the calendar year in accordance to the old Roman concept of dog days. Similarly, in Korea, the sultry days are referred to as Malbok, and a traditional chicken-based stew is a popular dish for its revitalizing purposes. The Korean chicken soup is known as Samgyetang, which is prepared with healthy ingredients such as ginseng and jujube. The stew is an excellent source of nutrients that are lost to excessive sweating and physical exertion during the hot summer.
Inspired by both western and eastern cultures, the French coq au vin was another important motivation in designing Barn Joo's Coq Au Sool stew. Coq au vin was initially popularized in the United States by Julia Child; the dish's recipe typically includes a braised chicken, lardons, mushrooms and wine.
Barn Joo's Coq Au Sool derives its name from its Korean and French inspirations as the Korean word "Sool" (meaning an alcohol drink) replaces vin (the French word for wine). Coq Au Sool was designed by Barn Joo's executive chef David Lee who uses varied ingredients for his unique interpretation of a coq au vin and Samgyetang fusion.
The Coq Au Sool is prepared with an organic chicken which is roasted and braised. Interestingly, Japanese sake is a key ingredient used in the cooking oil and marinate which is also complemented with additional flavors like soy sauce, sesame oil, and cinnamon. The soothing and invigorating taste of the hearty stew also incorporates healthy ingredients like ginger, radish, jujube, garlic, royal trumpet and Pyogo Buseot.
The Coq Au Sool will be available at Barn Joo for a limited time, from August 12th to August 15, 2013, during the sultry dog days of Summer. Experience a revitalizing sensation through the Coq Au Sool from Barn Joo.
About Barn Joo
EAT…DRINK…PLAY…
Barn Joo is a Korean-inspired gastropub in the bridge over Flatiron District and Union Square. The exciting characteristic of Barn Joo's menu is a changing array of small plates-highlighting the use of farm to table ingredients-offering comfort foods with the touch of Korean soul. We focus on bringing the best out of ingredients and transform them into exotic flavor profiles, yet in a simple form that our guests can relate to. Guests are welcome for a quick bite at the bar, a specialty cocktail in the lounge, or for pleasant dining under our naturally organic yet unique ambiance.
In Korean language, Barn Joo means musical accompaniment or drinks accompanied by your meals. We want to create a warm and welcoming venue to eat, drink, and play with music…so simple.