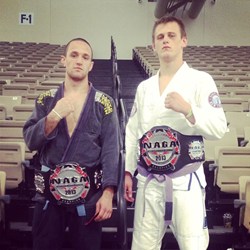 Baltimore, MD (PRWEB) August 06, 2013
On Saturday, August 3, Crazy 88 Brazilian Jiu-Jitsu had a small team compete at NAGA Battle at the Beach in Wildwood, NJ.
Brazilian Jiu-Jitsu is a grappling martial art made famous by the Gracie family. It is a realistic martial art that is similar to wrestling and uses submissions. The sport is recognized around the world with tournaments often being hosted at the international level.
Promotions such as the North American Grappling Association (NAGA) host tournaments at a local and regional level. This scale of tournament provides a solid starting platform for first time competitors as well as provide additional competition opportunities for veteran members of the team during the season.
NAGA has Gi and No-Gi divisions for both adult and children. Crazy 88 had both adult and kid competitors competing in each of the named divisions.
From the kids squad Nick E. took gold in both his Gi and No-Gi divisions. Blake H. took home gold in the No-Gi Expert division. Then there was Vanessa F. who took silver in both Gi and No-Gi. Then there was Seth F. who took silver in Gi and Advanced No-Gi.
The notables from the adult squad include Amanda Fillers who took first in No-Gi Intermediate and first in Blue belt Gi. Chip Fillers took second in No-Gi Intermediate while Jen Watson took silver in her Gi division. Jon Connelly and Devon Delbrugge, both coaches at Crazy 88, closed out the Purple belt division.
To learn more about the competitors at Crazy 88 or to find out about upcoming events visit http://www.Crazy88BJJ.com or call (443) 283-1450.