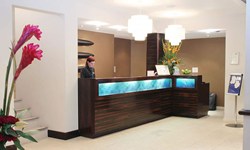 Located at the prime point of the affluent Kensington district of Central London, London Premier Kensington is one of the top luxury hotels in the British capital.
London, United Kingdom (PRWEB UK) 8 August 2013
It's the season of events, fairs and festivals in London and visitors have started arriving in thousands from different corners of the world. Hotels in London, especially the luxury accommodation properties are ready with their socks pulled to handle the extra work pressure and they are absolutely prepared to ensure absolute satisfaction of their valuable guests. The luxury hotels in London are acclaimed across the world for their hospitality and service excellence and certificates and awards given away by noted rating agencies are symbols of approval on their claims. Comfort of supreme level, luxury of majestic standard and convenience of ultimate stage are things that come automatically to the guests staying at the eminent deluxe hotels in London. But that's not all. London boasts of countless numbers of luxurious hotels but a few have retained their positions on the list of best hotels. The reason behind this success is strategic location which makes the properties ideal for all types of travelers. While majority of these London hotels are located close to prime tourist spots and places of interest, some are conveniently located within the vicinity of business and financial districts of London, offering added convenience to the business travelers, who come in large numbers to London and are frequent visitors.
July has started and a number of exciting events are lined up. So people planning a London trip this month should check out availability of accommodation at hotels that are located at close proximity to the event venue. Here are names of London hotels and July events that they would be offering easy accesses to.
BW Premier Shaftesbury London Piccadilly- London Indian Film Festival
Located right in the heart of the charming Piccadilly Circus area, BW Premier Shaftesbury London Piccadilly hotels is an ideal choice for business and leisure travelers alike. For visitors having an interest in movies, the hotel is perfect this July since the London Indian Film Festival is scheduled to start on 18. The festival which would continue for 7 days, is in its fourth year and this time it would commemorate the 100 years of Indian cinema. The festival would start at London's prestigious West End and would entertain people at other venues like BFI Southbank, Cineworld Shaftesbury Avenue, Wandworth, O2 and Wood Green. Varieties of cinema from UK and other parts of the world would be premiered at the 7-day long festival. BW Premier Shaftesbury London Piccadilly offers a very fast access to BFI South Bank and one can reach the venue by taking a train for Waterloo or Embankment station.
London Premier Kensington-Zandra Rhodes Exhibition
Located at the prime point of the affluent Kensington district of Central London, London Premier Kensington is one of the top luxury hotels in the British capital. This July, the hotel is simply perfect for the explorers since it is close to London's Fashion and Textile Museum, which would be hosting the Zandra Rhodes Exhibition. The event, scheduled for July 12-August 31, would showcase works of eminent British fashion designer Zandra Rhodes. This is the 10th anniversary of the event and the organizers are planning it big this time. The exhibition has been titled Zandra Rhodes Unseen and it would put on display designs, sketches and garments that Zandra have created in her entire career. Some of the eminent collectors of her designs are Debbie Harry, Freddy Mercury, Kylie Minogue and Princess Diana. One can reach the Fashion and Textile Museum easily from London Premier Kensington by taking a train and dropping at the London Bridge station.
Shaftesbury Premier London Paddington-Coronation Festival
Shaftesbury Premier London Paddington, one of the top LPHs (London Premier Hotels) in the Paddington district offers a very access to the iconic Buckingham Palace, which at the moment is gearing up to celebrate the 60th anniversary of the Queen's Coronation. Scheduled for July 11-14, the festival celebrates the historic occasion every year.
Shaftesbury Hyde Park International-Canada Day
For Canadian tourists, the first week of July, the 1st of July to be precise, would be the best time to be in London since the city would celebrate Canada Day on that date. The single-day festival would be held at the Trafalgar Square and everything starting from music to dance, art and culture to food and drink would have a touch of Canada. Shaftesbury Hyde Park International would be the perfect accommodation option for Canadian guests since it is very close to the venue.
Shaftesbury Suites London Marble Arch- Summer Streets on Regent Street
For shopaholics, July is a grand time to visit London since every Sunday of the month will offer great opportunity to enjoy traffic-free shopping on the Regent Street. Shaftesbury Suites London Marble Arch is located at a walking distance from the Regent Street, which is an added advantage for the visitors.