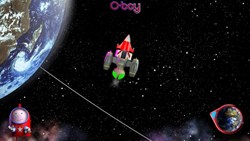 Children learn best when they are encouraged to explore.
Manchester, UK (PRWEB) August 08, 2013
Digital Publisher, Inkology, is looking forward to sending pre-school and early-years children into space with the help of an imaginative new mobile app! The company's latest app, Jetpack Journeys, will be available August 10th for both iPhone and iPad through iTunes' App Store.
In order to allow users to gain a firsthand experience of the solar system, Inkology's primary goal was to inspire its younger demographic. The Jetpack Journeys app has been designed to ignite a spark in children about the wonders of space, while allowing them to explore the perplexity of each planet through numerous free materials. Children will have the ability to delve into the cosmos through a digital magazine, an interactive drive through of the solar system, and a website filled with articles about the planets.
Jetpack Journeys does not contain any additional in-app purchases, which allows for parents to make a onetime purchase with the reassurance that children are free to roam in a beautiful, safe environment, learning as they play.
"I wanted my 5 year old to be able to recognize the planets of the solar system, as well as some simple but inspiring facts in the hope that he will begin to ask questions about the wonders of space," said Dom Conlon of Inkology. "It's my hope that other parents will see that children learn best when they are encouraged to explore."
The company realizes that setting out to influence children from an early age isn't easy. However, Jetpack Journeys hopes to change that by encouraging preschoolers to discover the solar system and each of the eight planets through play and exploration.
By designing and flying their own space ships, children will become familiar with the appearance and names of the planets throughout the universe. Because exploration extends to collecting objects on the surface of each planet, simple and engaging facts can be accessed. Inside the app, each stage of Jetpack Journeys is set up to encourage young minds to discover the solar system through cognitive building, analyzing and aggregation – all within a fun and safe environment.
Children will enjoy using their creativity and imagination to design dazzling rockets that will allow them to explore the planets in a beautifully created environment. All of this is accompanied by exciting and responsive music to stimulate them.
For more information, visit http://www.jetpackjourneys.com or contact Dom Conlon at +44 0 161 228 6699.
Links:
Download Jetpack Journeys from the App Store: http://bit.ly/JetpackJourneys
Full Press Kit: http://www.jetpackjourneys.com/press
Follow @jetpackjourneys on Twitter
About Inkology
Inkology build stories for children that enable them to discover themselves, their world, and how the two go together. Created by Carl Pugh, Shane McCafferty and Dom Conlon, Inkology draws upon experience gained through creating Apps such as Super Twario, SPiN Galactic, and Swing Pong which have been downloaded and played over a million times. Inkology is pledged to create safe, fun experiences for children which contain no in-app purchases and which are responsibly produced.
Jetpack Journeys is the first in the Inkology series of digital toys and books.