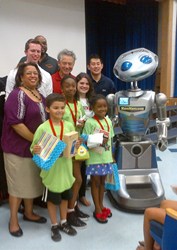 Educators around the world are discovering that KenKen, an easy-to-learn and fun math and logic puzzle can help even the most math-averse students improve their logic and critical thinking skills. - Robert Fuhrer, Founder of KenKen Puzzle
Pleasantville, NY (PRWEB) August 08, 2013
KenKen is a puzzle game, similar to Sudoku, that requires players to fill grids with numbers while solving mathematical problems. KenKen puzzles are carried daily in the "New York Times" and hundreds of other newspapers. KenKen is also available on Android and Apple's iOS devices.
In March, County Executive Robert P. Astorino launched his STEM initiative – to promote (s)cience, (t)echnology, (e)ngineering and (m)ath. "The KenKen contest is a way to work on math skills in a fun, challenging way," said Astorino.
Iris Pagan, executive director of the Westchester Youth Bureau, added: "The skills they learn with KenKen have the potential to help them in their everyday lives, far beyond just math classes
Like Sudoku, KenKen is a puzzle that originated in Japan and has attracted millions of enthusiasts.
The idea to have a contest grew out of a conversation between Pagan and Jing Xie, a member of the county youth board who is also an IBM employee. He was helped by his colleague Martin Greenberg and the sponsorship of Tara Radford, CFO of IBM Security Systems. Over 30 IBMers plan to join the campers in their day of KenKen.
"My team and I wanted to tutor kids in math," he said. "Because of the KenKen puzzles, we can have the pleasure of watching kids get excited and learn at the same time."
Robert Fuhrer, founder of the local company, said: "Over 30,000 teachers nationwide have already discovered that KenKen, an easy-to-learn and unbelievably fun math and logic puzzle, can help even the most math-averse students develop not only math skills, but vastly improve their logic and critical thinking skills while instilling a sense of self-confidence and developing perseverance."
Kevin Euyoque took first place in Friday's competition while, Kenedi Catoe took second and Kori Leak placed third.
More than two-dozen IBM employees assisted with the competition along with staff from the local KenKen office, located in Pleasantville.
Millennia The Robot and its creator, Robert Doornik, of International Robotics Inc. of Larchmont, were also present at the competition.
About KenKen®
KenKen® logic puzzles were first invented in Japan by Tetsuya Miyamoto, promoted as "Kashikoku Naru Puzzle" or the "Makes You Smarter" puzzle, and brought to the rest of world through Nextoy, LLC. With the main goal being to improve students' cognitive abilities in mind, he developed a brain stimulating exercise that would be understandable, fun and challenging for students of all levels. Today, Mr. Miyomoto's classroom vision seems to have become a reality.